Still A Few Seats Left on Saturday's One-Time-Only "In Search of Imperial California" Bus Adventure

Gentle reader...

Happy post-feasting! If you're looking for a way to work off a bit of that stuffing while expanding your mind, why not join us tomorrow for Richard's Birthday Bus Adventure, In Search of Imperial California?

On the Saturday after Thanksgiving each year, we lead a one-off, all-day tour to places we don't go on our regularly scheduled bus adventures—and places no other tour company would visit, either. This year's excursion is particularly thrilling!

In Search of Imperial California explores a century of Southern California urban development and history, featuring gorgeous architecture, progressive planning, historic preservation wins and losses, colorful characters, scenic vistas, good eats (an Indian buffet lunch and birthday cake) and good company.

And, as always, there are special guests on the birthday bus. Cemetery historian Nathan Marsak will lead us through Melrose Abbey's mausoleum, with its magnificent rose window. Architect and historian Alan Hess gives an insider's tour of William Pereira's endangered mid-century Irvine neighborhoods and university buildings, and shares the newly formed coalition seeking to Preserve Orange County.

Plus an ancient eucalyptus forest, the Heritage Hill collection of historic buildings and artifacts, two iconic and architecturally distinguished medical institutions: Metropolitan State Hospital and Rancho Los Amigos, and cool surprises that you'll only find on Saturday's tour, In Search of Imperial California. Join us, do!
SUPPORT OUR WORK
If you enjoy all we do to celebrate and preserve Los Angeles history and would like to say thank you, please consider putting a little something into our digital tip jar. You can also click here before shopping on Amazon. Your contributions are never obligatory, but always appreciated.
RECENTLY TOURED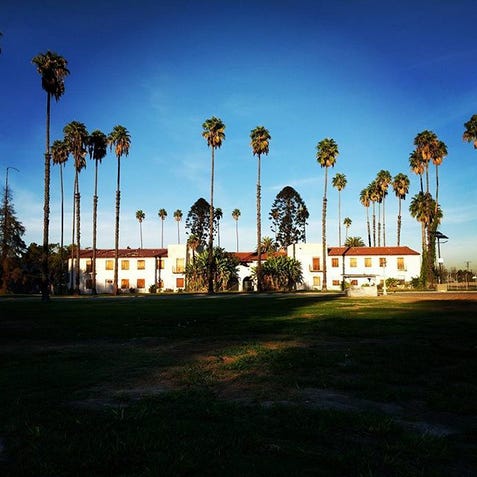 Saturday: see the landmark Rancho Los Amigos complex, which is on the verge of some big changes.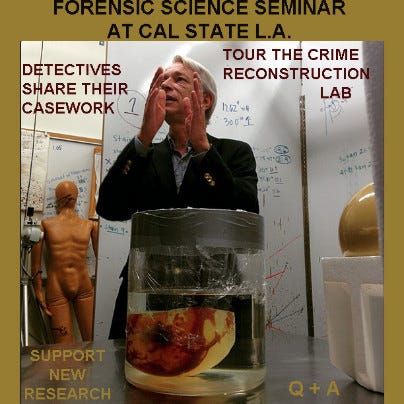 LAVA'S FORENSIC SCIENCE SEMINAR - SUN. 3/4
Four times a year, we gather in the teaching crime labs of Cal State L.A. to explore the history and future of American forensic science. On March 4, 2018, join us for Wrongful Convictions: Investigatory Case Studies from the California Innocence Project. Your $36.50 ticket benefits graduate level Criminalistics research.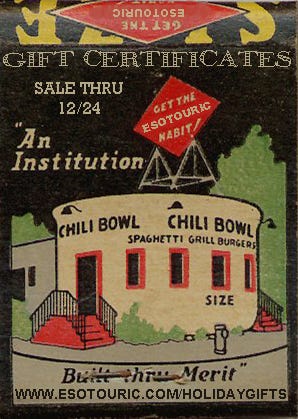 GIVE THE GIFT OF... US!

The holidays are upon us, and with them the obligation to come up with something agreeable for all kinds of people. We'd like to make gift shopping easy on you, with the gentle suggestion that an Esotouric gift certificate is always the right size and color. The recipient can chose from something naughty or nice from our wide range of bus adventures, and you'll save on our regular ticket prices when you buy three or more before 12/24. For more info or to reserve, click here.
COMING SOON

SPECIAL EVENT: RICHARD'S BIRTHDAY BUS - IN SEARCH OF IMPERIAL CALIFORNIA - SAT. 11/25... Join us for a full day exploring the the history, landscape and built environment of Irvine, Lake Forest, Norwalk and Downey. From ancient eucalyptus groves to historic psychiatric institutions to the mid-century master plans of William Pereira (this portion led by architect and historian Alan Hess) to delicious birthday cake, it's bound to be an illuminating bus adventure. (Learn more about this one-time-only tour, or reserve your spot, here.)

PASADENA CONFIDENTIAL - SAT. 12/2... The Crown City masquerades as a calm and refined retreat, where well-bred ladies glide around their perfect bungalows and everyone knows what fork to use first. But don't be fooled by appearances. Dip into the confidential files of old Pasadena and meet assassins and oddballs, kidnappers and slashers, black magicians and all manner of maniac in a delightful little tour you won't find recommended by the better class of people. (Buy tickets here.)

HOTEL HORRORS & MAIN STREET VICE - SAT. 12/9... Through the 1940s, downtown was the true city center, a lively, densely populated, exciting and sometimes dangerous place. But while many of the historic buildings remain, their human context has been lost. This downtown double feature tour is meant to bring alive the old ghosts and memories that cling to the streets and structures of the historic core, and is especially recommended for downtown residents curious about their neighborhood's neglected history. (Buy tickets here.)

THE REAL BLACK DAHLIA - SAT. 1/6... Our traditional first tour of the year, which falls on or near the anniversary of Beth Short's kidnapping. Join us on this iconic, unsolved Los Angeles murder mystery tour, from the throbbing boulevards of a postwar Downtown to the quiet suburban avenue where horror came calling. After multiple revisions, this is less a true crime tour than a social history of 1940s Hollywood female culture, mass media and madness, and we welcome you to join us for the ride. This tour usually sells out, so don't wait to reserve. (Buy tickets here.)

RAYMOND CHANDLER'S LOS ANGELES - SAT. 1/13... Follow in the young writer's footsteps near his downtown oil company offices to sites from The Lady in the Lake and The Little Sister, meet several real inspirations for the Philip Marlowe character and get the skinny on Chandler's secret comic operetta that we discovered in the Library of Congress nearly a century after it was written. Plus a stop at Scoops for noirish gelato creations and a visit to Larry Edmunds Bookshop. (Buy tickets here.)

Additional upcoming tours: The Birth of Noir (1/20), The Lowdown on Downtown (1/27), Special Event: Two Days in South LA: The 1974 SLA Shootout (2/10), Weird West Adams (2/17), Boyle Heights & Monterey Park (2/24).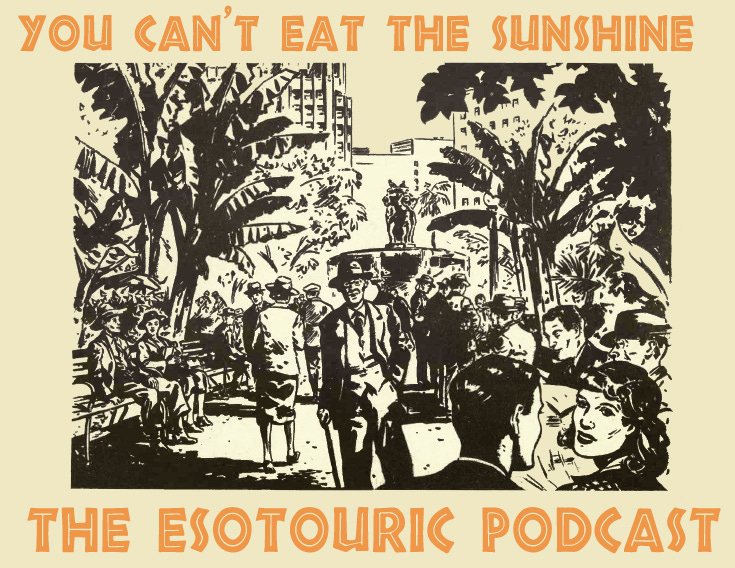 OUR HISTORIC L.A. PODCAST
In Episode #122: Bunker Hill & The French Village: Two Lost Los Angeles Neighborhoods Taken By Eminent Domain, two stories of families torn from the places they loved, and the memories that survive. Plus another Pereira in Peril, Ports O' Call shopkeepers & more. Click here to tune in. New: find stories on the map!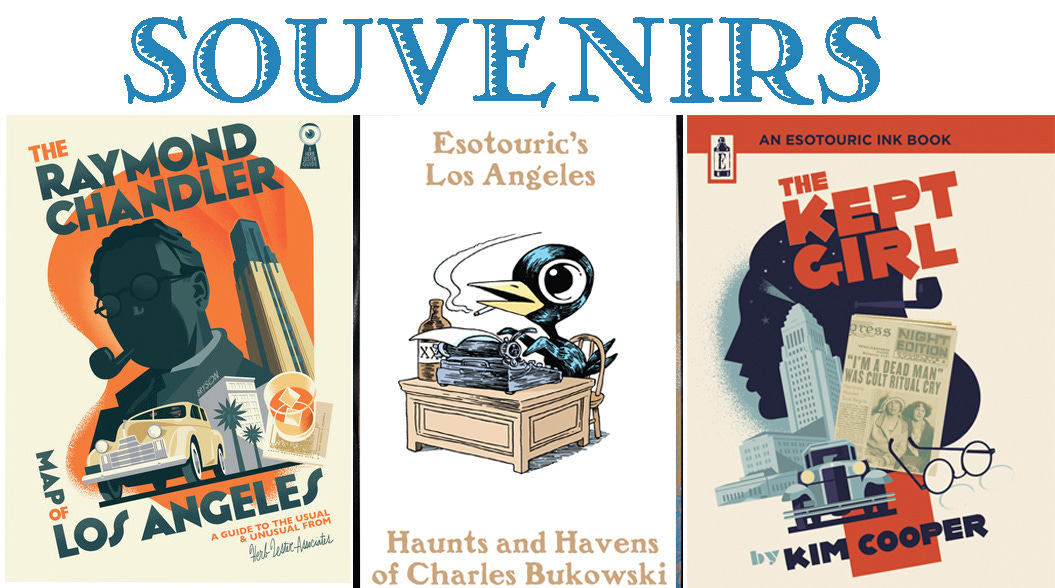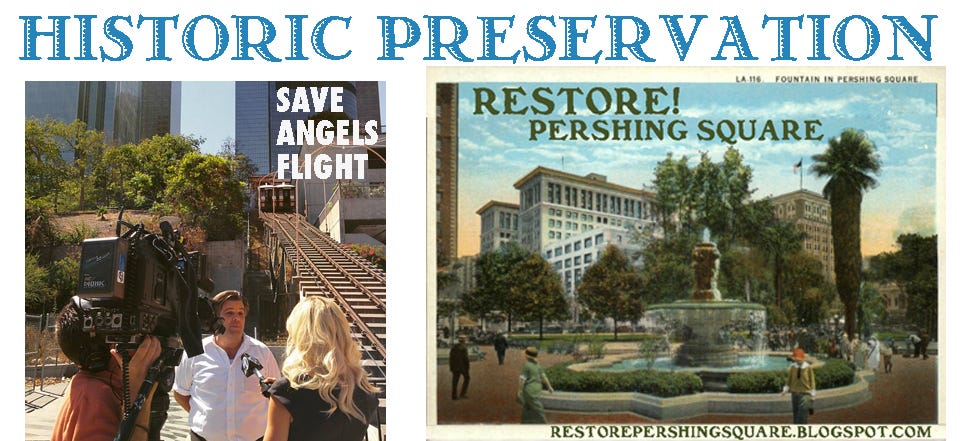 AND FINALLY, LINKS
Good news about the endangered Musician's Union building in Hollywood: it passed the first hurdle on the road to becoming an Historic Cultural Monument.

Where is Vermonica? Artist Sheila Klein's installation of historic Los Angeles streetlights (created years before Chris Burden's Urban Light at LACMA) has been mysteriously removed and its elements reinstalled. Its many fans, the artist, and we are on the case.

Historic structures on the Roosevelt High School campus threatened with demolition.

See Theodore Payne's 1928 guide to native plants, published when his nursery was in Atwater Village.

The City of Glendale, "Captain" Slate's dirigible dream that went pffft.

Sad news: Beverly Hills stationer Francis-Orr (since 1924) is closing forever on 12/30.

West L.A. disaster porn: watch a 1960s suburban neighborhood destroyed by rushing water as the Baldwin Hills reservoir fails along a fault line.

Fascinating, if scatological, explanation for the art deco towers on Sears warehouses like the one in Boyle Heights.

CBS This Morning only re-airs the sweetest feel good stories on national holidays, and the return of Angels Flight feels very sweet indeed!

Preserving California's historic orchards, a tangible link to our roots.

We're quite crabby that a luxury Newport Beach development undermined the historic Crab Cooker restaurant, and now its 1930s bank building home will be demolished.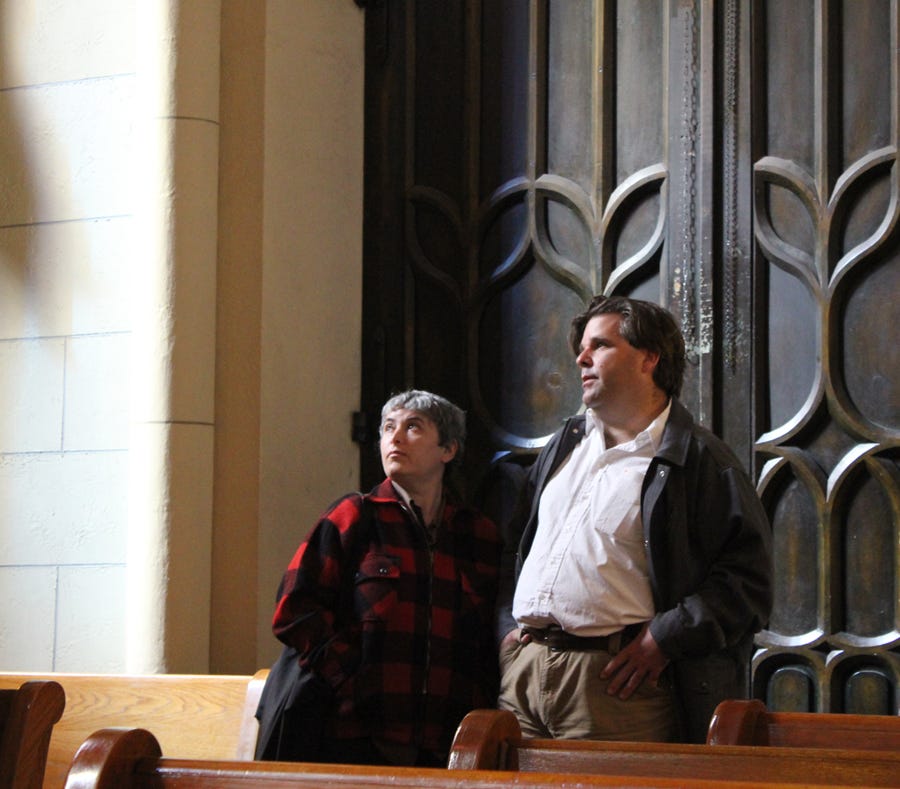 yrs,
Kim and Richard
Esotouric