Our Waitress Blew Our Minds edition

SEEN ON OUR TRAVELS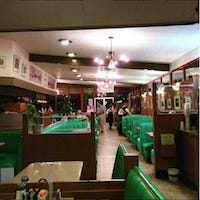 Rod's Grill: a perfect mid-century time capsule.
This is a longer newsletter that some email providers will have trouble displaying. Click "View this email" at upper right for a complete reading experience.
Gentle reader...

It was a sleepy Saturday in the deep San Gabriel Valley when we saw Rod's Grill gleaming like a chrome-plated beacon in the night. Although we'd just left a grander restaurant, we glided inexorably to harbor at Rod's long, curved counter, all smooth formica and teal naugahyde cushions.

Pie, apple. Sundae, hot fudge. A cup of tea and "oh, hey, wasn't this place saved from eminent domain?" "You want to talk to Julie," our waitress said.

Then, from the back of the house, came Julie. Tall, solid, utterly without guile. 24 years she'd worked at Rod's. Used to wait tables at corporate joints, but she hated it. At a family-run place, she could be herself.

The fight? One night, she'd noticed a clipboard by the register. Manny, her boss, told her the city redevelopment agency wanted to knock Rod's down and put in a parking lot for the Mercedes dealership across the street. So he had this petition, over where people paid their checks. You can't fight city hall, but you gotta do something, right?

You gotta do something, but maybe more than that.

Julie takes the clipboard, starts working her tables, her regulars. "I need a favor," says Julie, solid, utterly without guile. "I want to keep my job. I need you to help save this restaurant." Then she puts the clipboard down, and everybody signs.

Julie's a night owl, but she's up every morning out in front of the restaurant, holding her clipboard, talking about doing the right thing. And the regulars, old folks, working folks, folks who remembered when Rod Wellman owned the diner and its pretty sisters, strung like stars, all across the valley, they clustered together over the smooth formica tables and they talked about back room politics and special favors and little guys and big guys, and old Route 66.

We couldn't help but see them as Julie's Army, night owls with a mission, marching to the polls to vote for a slate of city council candidates who swore their loyalty to Rod's Grill and to the Elks' Lodge next door.

That was 2006, and you already know that the little guy won, this time. The Mercedes dealer's threats to move out of town provided hollow, and Rod's Grill still glows in the night, a safe harbor where an ice cream sundae in a tall fountain glass costs less than a Frappuccino, and where our friend Julie holds court.

"How'd you do it?" we asked, thinking how hopeless it must have seemed. "I just go on forward," she says. "One step, two steps, three. And if I slip back two, I'm still ahead. I just keep going."

Then she hugged us, and sent us on our way, to fight our own battles against the big guys with a little piece of her beautiful spirit glowing in our hearts.

When they saved Rod's, they saved a lot. Stop by some night, and see for yourself.

Just listed on the LAVA calendar are our annual Skid Row history walking tour and rooftop screening at the Union Rescue Mission, two free events that are a must for anyone seeking to understand the complicated forces at work on these mean downtown streets.

We're back on the bus on Saturday with The Lowdown on Downtown, featuring a rare visit to the tiled Dutch Chocolate Shop and many other delights. Join us, do!
COMING SOON

THE LOWDOWN ON DOWNTOWN - SAT. 8/15... Come discover the secret history, and the fascinating future, of a most beguiling neighborhood. This is not a tour about beautiful buildings--although beautiful buildings will be all around you. This is not a tour about brilliant architects--although we will gaze upon their works and marvel. The Lowdown on Downtown is a tour about urban redevelopment, public policy, protest, power and the police. It is a revealing history of how the New Downtown became an "overnight sensation" after decades of quiet work behind the scenes by public agencies and private developers. This tour is about what really happened in the heart of Los Angeles, a complicated story that will fascinate and infuriate, break your heart and thrill your spirit. Come discover the real Los Angeles, the city even natives don't know, as guest hosts provide personal insight into life on old Bunker Hill, on the streets and in the lofts of the Arts District. A special treat will be a stop at the famous tile-drenched Dutch Chocolate Shop for the scoop on new plans to bring this stunning space back into public use. (Buy tickets here.)

RAYMOND CHANDLER'S LOS ANGELES - SAT. 8/22... Join us for a journey from the downtown of Chandler's pre-literary youth (but which always lingered at the fore of his imagination) to the Hollywood of his greatest success, with a stop along the way at Tai Kim's Scoops for unexpected gelato creations inspired by the author. We'll start the tour following in the young Chandler's footsteps, as he roamed the blocks near the downtown oil company office where he worked. See sites from The Lady in the Lake and The Little Sister, discover the real Philip Marlowe (the inspiration for Kim's novel The Kept Girl) and get the skinny on Chandler's secret comic operetta that we discovered in the Library of Congress nearly a century after it was written. (Buy tickets here.)

HOTEL HORRORS & MAIN STREET VICE - SAT. 8/29... From the founding of the city through the 1940s, downtown was the true center of Los Angeles, a lively, densely populated, exciting and sometimes dangerous place. After many quiet decades, downtown is making an incredible return. But while many of the historic buildings remain, their human context has been lost. This downtown double feature tour is meant to bring alive the old ghosts and memories that cling to the streets and structures of the historic core, and is especially recommended for downtown residents curious about their neighborhood's neglected history. (Buy tickets here.)

THE BIRTH OF NOIR: JAMES M. CAIN'S SOUTHERN CALIFORNIA NIGHTMARE - SAT. 9/12... Ride along on a very pulpy path on a wide-ranging tour that digs deep into the literature, film and real life vices that inform that most murderous genre, film noir -- from Double Indemnity (where Raymond Chandler's Hollywood career intersects with Cain's) to The Postman Always Rings Twice to Mildred Pierce and beyond. The tour rolls through Hollywood, Glendale and old Skid Row, lost lion farms, murderous sopranos, fascist film censors, offbeat cemeteries -- all in a quest to reveal the delicious, and deeply influential, nightmares that are Cain's gift to the world. (Buy tickets here.)

WEIRD WEST ADAMS - SAT. 9/19... On this guided tour through the Beverly Hills of the early 20th Century, Crime Bus passengers thrill as Jazz Age bootleggers run amok, marvel at the Krazy Kafitz family's litany of murder-suicides, attempted husband slayings, Byzantine estate battles and mad bombings, visit the shortest street in Los Angeles (15' long Powers Place, with its magnificent views of the mansions of Alvarado Terrace), discover which fabulous mansion was once transformed into a functioning whiskey factory using every room in the house, and stroll the haunted paths of Rosedale Cemetery, site of notable burials (May K. Rindge, the mother of Malibu) and odd graveside crimes. Featured players include the most famous dwarf in Hollywood, mass suicide ringleader Reverend Jim Jones, wacky millionaires who can't control their automobiles, human mole bank robbers, comically inept fumigators, kids trapped in tar pits, and dozens of other unusual and fascinating denizens of early Los Angeles. (Buy tickets here.)
AND FINALLY, LINKS

Signs of life at Clifton's Cafeteria.

Take the green road.

When the Yippies (sort of) invaded Disneyland.

Pershing Square re-design competition expected to be launched... But why re-design when so many say restore?

And another park called Pershing faces a public space crisis.

Playing good news/bad news with the LA River.

Closing the case.

File under: lovely/horrifying. 1989 Loma Prieta damage survey, Paramount Theater, Oakland.

After the bodies are gone.
SUPPORT OUR WORK
If you enjoy all we do to celebrate and preserve Los Angeles history and would like to say thank you, please consider putting a little something into our digital tip jar. Your contributions are never obligatory, but always appreciated.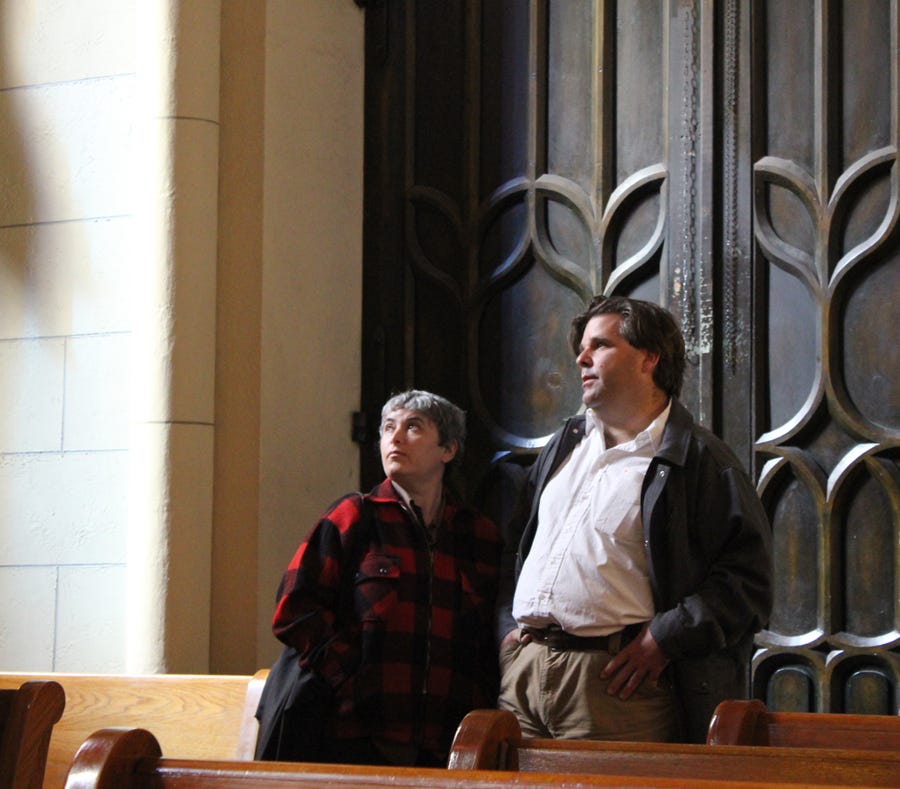 yrs,
Kim and Richard
Esotouric
RECOMMENDED READING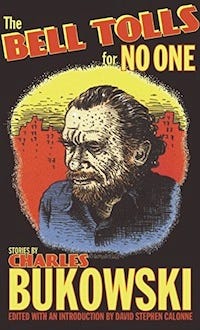 Twenty-plus years after Charles Bukowski laid down his typewriter ribbon and his bibliography keeps growing. This anthology collects scarce small press short fiction, mainly from his 1970s-era L.A. Free Press column "Notes of a Dirty Old Man," and offers a grimy window on a lost and lusty Los Angeles. Also newly released, On Writing, a collection of letters.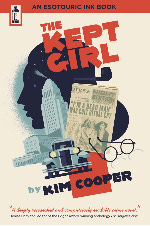 A novel set in 1929 Los Angeles, starring the young Raymond Chandler, his devoted secretary and the real-life Philip Marlowe in pursuit of a murderous cult of angel worshippers. Available on all Esotouric tours, or direct from Esotouric Ink, from Amazon and for the Kindle.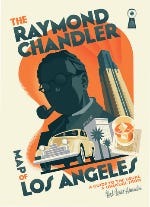 A collaboration between illustrator Paul Rogers and our own Kim Cooper, featuring 50 iconic noir locations and packed with surprising lore and gorgeous artwork inspired by the vintage Dell Mapback mysteries of the 1940s. Available from Kim or Amazon, and on our tours. (Looking for Aaron Blake's out-of-print 1985 map? Click here.)
FROM THE VIDEO VAULT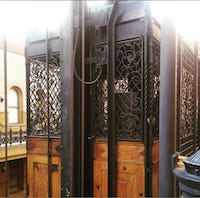 Now on our YouTube channel, a virtual trip in one of the Bradbury Building's historic open cage elevators, once operated by that great heroine of historic Los Angeles, Miss Minnie Epp. Click here to ride, and here for Minnie's story.
FORENSIC SCIENCE SEMINARS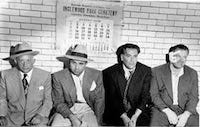 Four times a year, we gather in the teaching crime labs of Cal State Los Angeles under the direction of Professor Donald Johnson to explore the history and future of American forensic science. Your $36.50 ticket to V is for Vice: Eight Decades of Sin & Scandal, from the Sunset Strip to Beverly Hills benefits graduate level Criminalistics research. Join us on Sunday, October 18. For more info, click here. To get on the waiting list for the sold out Serial Killer Summer Session (August 16), click here.
In the latest edition of You Can't Eat the Sunshine, we peel back the curtains to reveal a day in the life of Union Station, and learn how fast-acting Downey folk managed to save their beloved Googie diner from an illegal demolition. Click here to tune in.
PRESERVATION CAMPAIGNS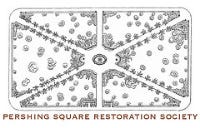 Help bring two L.A. icons back from the dead, when you join the campaign to restore John Parkinson's 1910 design for our greatest lost park, and sign the petition to return Angels Flight Railway to regular service.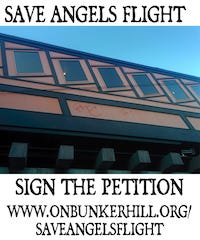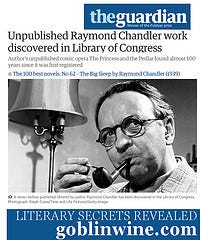 We discovered Raymond Chandler's most delightful literary secret. Now we need your help to stage his comic operetta in Los Angeles!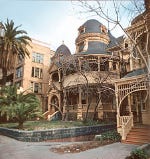 Need an L.A.-centric gift in a hurry? Visit The Esotouric Emporium of L.A. Lore, our curated guide to the best in regional books, films and artifacts. How about a gift certificate for a bus adventure into the secret heart of Los Angeles, a solo 6-Pack or shareable 12-Pack? We also carry vintage photos of lost Bunker Hill as well as earlier scenes, Charles Bukowski-inspired fine art prints, Raymond Chandler maps (vintage) or (contemporary) and 76 ball antenna toppers.
TOUR CALENDAR