In Which We Get Killed Off On TV (while fighting demons)

Gentle reader...

Imitation, they say, is flattering. So what else can we do but be tickled to learn (somewhat belatedly) that characters in the new Fox television show, The Exorcist, are based on us?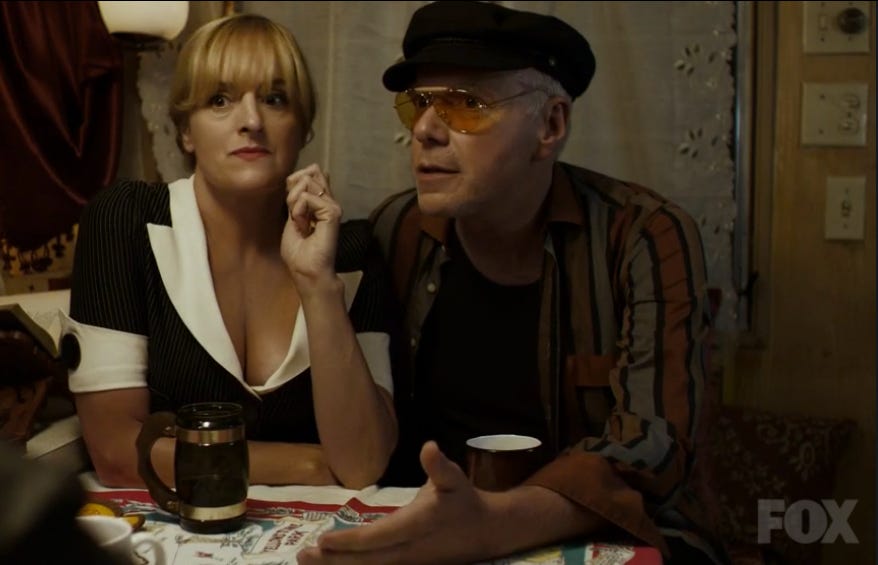 Meet Cherry and Lester Rego, the affectionately bickering lapsed academics who run an historical true crime bus tour company and provide research assistance to a priest-detective on the trail of demonic doings. You can see their debut appearance here at 13:56 and again at 23:19.

We say "somewhat belatedly" because no sooner did we discover these characters' existed, that we found they'd already been killed off a few episodes later. Geek.com's critic observed, "They were minor characters, but they were so charming that their deaths were oddly affecting." Thanks... we guess!

The Esotouric Holiday Party at historic Lummis House (drone footage) was a delightful gathering of like-minded souls. Photos are here.

Here's a last reminder that through Christmas Eve, you can take advantage of a special sale on Esotouric gift certificates with deep discounts on bus adventures into the secret heart of LA when purchased in bulk. Also available, themed packages for fans of Raymond Chandler and Charles Bukowski, and copies of our newest guidebook, How To Find Old Los Angeles. Orders are coming in from all over the globe, proving you don't have to live here to love Los Angeles (but it helps).

We're off the bus through the holidays, returning with our traditional first tour of the year, The Real Black Dahlia on January 7, rolling in Beth Short's footsteps during the 70th anniversary week of her still-unsolved kidnapping and murder. Join us, do!
SUPPORT OUR WORK
If you enjoy all we do to celebrate and preserve Los Angeles history and would like to say thank you, please consider putting a little something into our digital tip jar. You can also click here before shopping on Amazon. Your contributions are never obligatory, but always appreciated.
RECENTLY TOURED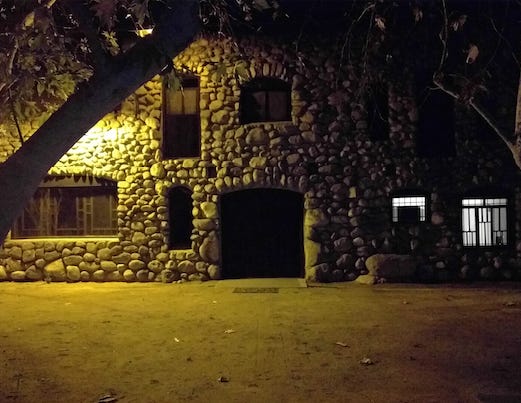 As we packed up the last scraps of 1903 recipe gingerbread (thanks, Carl!) and other goodies from the Esotouric Holiday Party, this beautiful evening view of Lummis House wished us safe travels.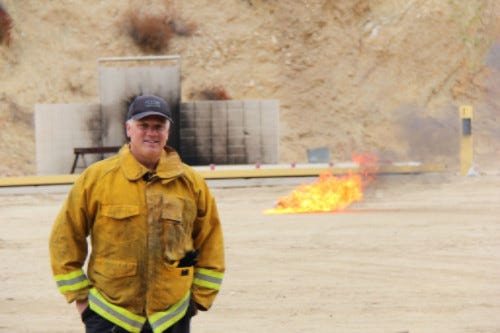 LAVA'S FORENSIC SCIENCE SEMINAR - SUN. 1/22
Four times a year, we gather in the teaching crime labs of Cal State Los Angeles under the direction of Professor Donald Johnson to explore the history and future of American forensic science. On January 22, 2017, join us as arson detective and author Ed Nordskog ("Torchered" Minds: Case Histories of Notorious Serial Arsonists) shares his most fascinating recent case, The Hollywood Fire Devil. Your $36.50 ticket benefits graduate level Criminalistics research. Click here to reserve.
RECOMMENDED READING

New from our Kim Cooper and U.K. travel guide mavens Herb Lester is How To Find Old Los Angeles, a glove box companion for urban time travelers. Included within are 153 historic sites where you can eat, drink, wander and fall in love with our city's rich and often oddball history. Let Kim be your guide as you stamp your Angeleno's passport with giant donuts, notable neon, shadowy dive bars and secret gardens. Available as a souvenir on our bus tours or by mail, and wherever fine paperbacks are sold.
COMING SOON

THE REAL BLACK DAHLIA - SAT. 1/7... Join us on this iconic, unsolved Los Angeles murder mystery tour, from the throbbing boulevards of a postwar Downtown to the quiet suburban avenue where horror came calling. After multiple revisions, this is less a true crime tour than a social history of 1940s Hollywood female culture, mass media and madness, and we welcome you to join us for the ride. This tour always sells out, so don't wait to reserve. (Buy tickets here.)

DOWNEY'S GOOGIE PHOENIX: HARVEY'S BROILER 10TH ANNIVERSARY CELEBRATION - SUN. 1/8... 2017 is our tenth anniversary as your friendly offbeat Los Angeles tour company, and we'll be celebrating all year long with special talks, tours and happenings, like this drive-in Downey shindig in honor of the amazing preservation work that brought Harvey's Broiler back from the dead--it's free with RSVP!

RAYMOND CHANDLER'S LOS ANGELES - SAT. 1/14... Follow in the young writer's footsteps near his downtown oil company offices to sites from The Lady in the Lake and The Little Sister, meet several real inspirations for the Philip Marlowe character and get the skinny on Chandler's secret comic operetta that we discovered in the Library of Congress nearly a century after it was written. Plus a stop at Scoops for noirish gelato creations and a visit to Larry Edmunds Bookshop. (Buy tickets here.)

THE BIRTH OF NOIR: JAMES M. CAIN'S SOUTHERN CALIFORNIA NIGHTMARE - SAT. 1/21... This tour digs deep into the literature, film and real life vices that inform that most murderous genre, film noir, rolling through Hollywood, Glendale and old Skid Row, lost lion farms, murderous sopranos, fascist film censors, offbeat cemeteries -- all in a quest to reveal the delicious, and deeply influential, nightmares that are author Cain's gift to the world. (Buy tickets here.)

FORENSIC SCIENCE SEMINAR AT CAL STATE LOS ANGELES - SUN. 1/22... Professor Donald Johnson hosts arson investigator Ed Nordskog's presentation, The Hollywood Fire Devil. In this recently adjudicated case, you'll follow along in real time as the largest coordinated arson investigation in history pits a multi-agency team against a bold and increasingly dangerous perpetrator who is terrorizing Los Angeles. Your $36.50 ticket benefits graduate level Criminalistics research. (Buy tickets here.)

THE LOWDOWN ON DOWNTOWN - SAT. 1/28... This is not a tour about beautiful buildings--although beautiful buildings will be all around you. This is not a tour about brilliant architects--although we will gaze upon their works and marvel. The Lowdown on Downtown is a tour about urban redevelopment, public policy, protest, power and the police. It is a revealing history of how the New Downtown became an "overnight sensation" after decades of quiet work behind the scenes by public agencies and private developers. Come discover the real Los Angeles, the city even natives don't know. Features a visit to the Dutch Chocolate Shop, a tiled wonderland not open to the public. (Buy tickets here.)

THE LAVA SUNDAY SALON & BROADWAY ON MY MIND WALKING TOUR - SUN. 1/29... Our free cultural lecture series recently relaunched on the basement level of Grand Central Market. Starting in January, the Sunday Salon is combined with a walking tour. Join architectural historian Nathan Marsak on a time travel trip to the lost world of Richardsonian Romanesque Downtown L.A. architecture. Free, reservation required.

SOUTH LOS ANGELES ROAD TRIP: HOT RODS, ADOBES, GOOGIE & EARLY MODERNISM - SUN. 2/5... This rare Sunday tour in our California Culture series rolls through Vernon, Bell Gardens, Santa Fe Springs and Downey, and the past two centuries, exploring some of L.A.'s most seldom-seen and compelling structures. Turning the West Side-centric notion of an L.A. architecture tour on its head, the bus goes into areas not traditionally associated with the important, beautiful or significant, raising issues of preservation, adaptive reuse, hot rod kar kulture and the evolution of the city. (Buy tickets here.)

TWO DAYS IN SOUTH LA: THE 1974 SLA SHOOTOUT - SAT. 2/11... On this Special Event tour celebrating our 10th anniversary as a tour company, we join forces with author Brad Schreiber (Revolution's End) to tour the locations where the radical Symbionese Liberation Army's political kidnapping of heiress Patty Hearst came to a fiery end. Sorry, no discounts accepted on this Special Event tour. Seats are selling quick! (Learn more and buy your tickets here.)

Additional upcoming tours: Boyle Heights & Monterey Park (2/18), Weird West Adams (2/25), Eastside Babylon (3/11), Pasadena Confidential (3/18) and Hotel Horrors & Main Street Vice (3/25).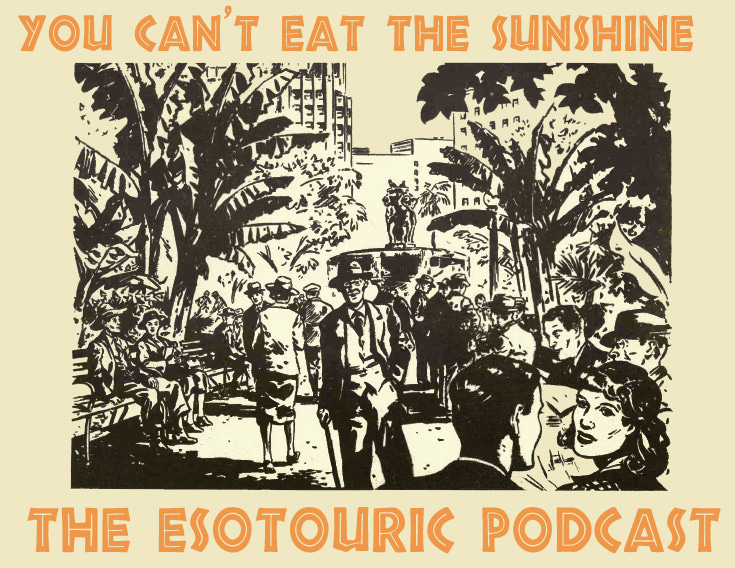 OUR HISTORIC L.A. PODCAST
Episode #115, Hollywood Book Culture & Downtown's Chimney Swifts, we talk about the golden age of bookshops with film historian Bob Birchard, then visit the Ornithology section of the Natural History Museum for an insider's look at Vaux' swifts, tiny travelers who nest in landmarks. Click here to tune in. New: find stories on the map!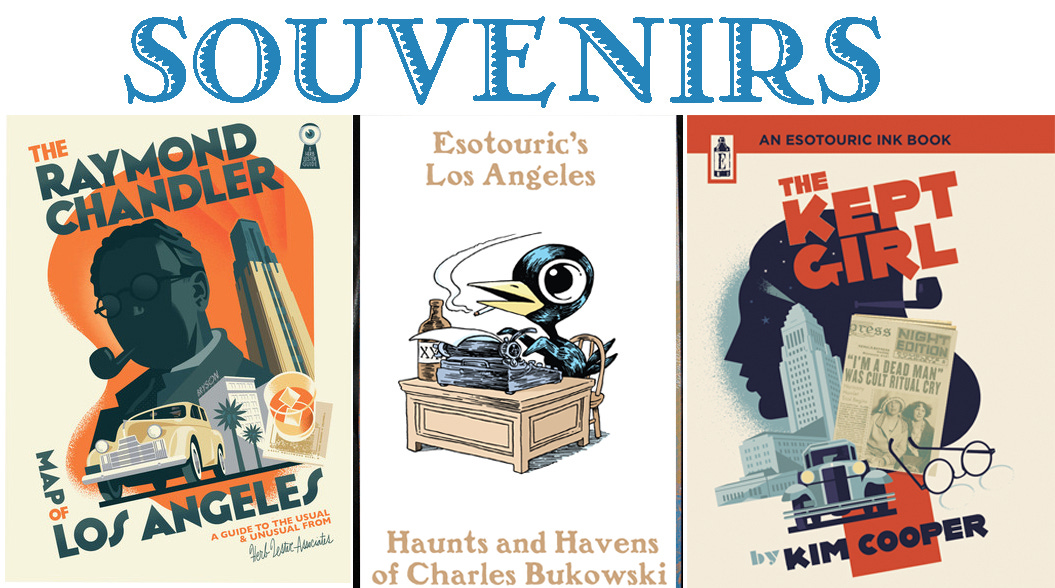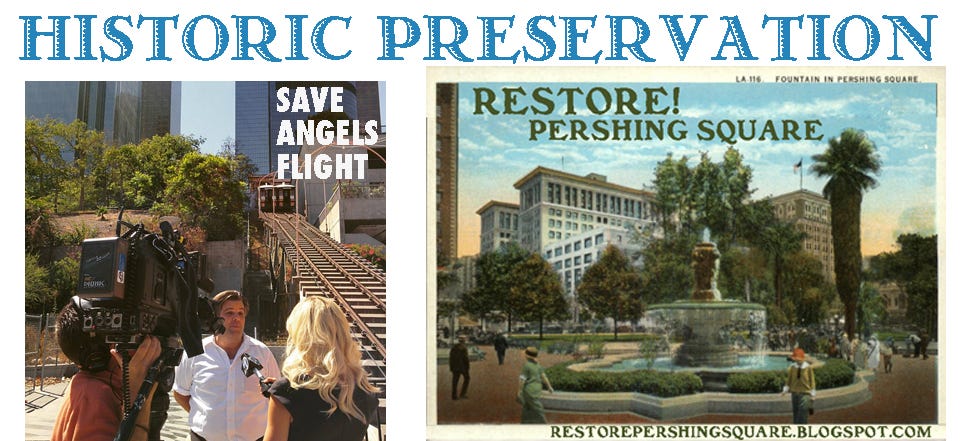 AND FINALLY, LINKS
Happy 150th Anniversary to our beloved Pershing Square.

We're delighted our tours were named one of Los Angeles Magazine's 100 Things Every Angeleno Should Do At Least Once. (How many have you done?)

Demolitions proposed for the unlandmarked, magnificent Los Angeles Times compound.

Another vintage Norms diner bites the dust. It's sad that real estate speculators are piggybacking off transit expansion to destroy an even more valuable public amenity: the vanishing all-night coffee shop.

A second date has been added for our special arts & crafts tile tour organized by the Pasadena History Museum, Batchelder By Bus.

Kudos to the Hollywood Heritage preservationists advocating neon, not LED, on the newly landmarked Earl Carroll Theatre.

Meanwhile, the LED-swapped Felix the Cat sign goes from bad to worse.

Long-neglected Fort Moore memorial fountain finally getting some love. It took a huge mixed used development to spur the County to fix it.

Union Station's name means something. Don't demean it with corporate branding rights.

Can Koreatown's most beloved green space be protected from development? Campaign seeks to save Peter Walker's 1967 Liberty Park.

Parker Center, one of the more architecturally significant modern buildings in the City of LA's portfolio, recommended for demolition.

Video Vault: What a bittersweet home movie find! West Hollywood bungalow demolished, 1960s dingbat erected.

Los Angeles celebrity dental lore lives on in the heart of historic Skid Row.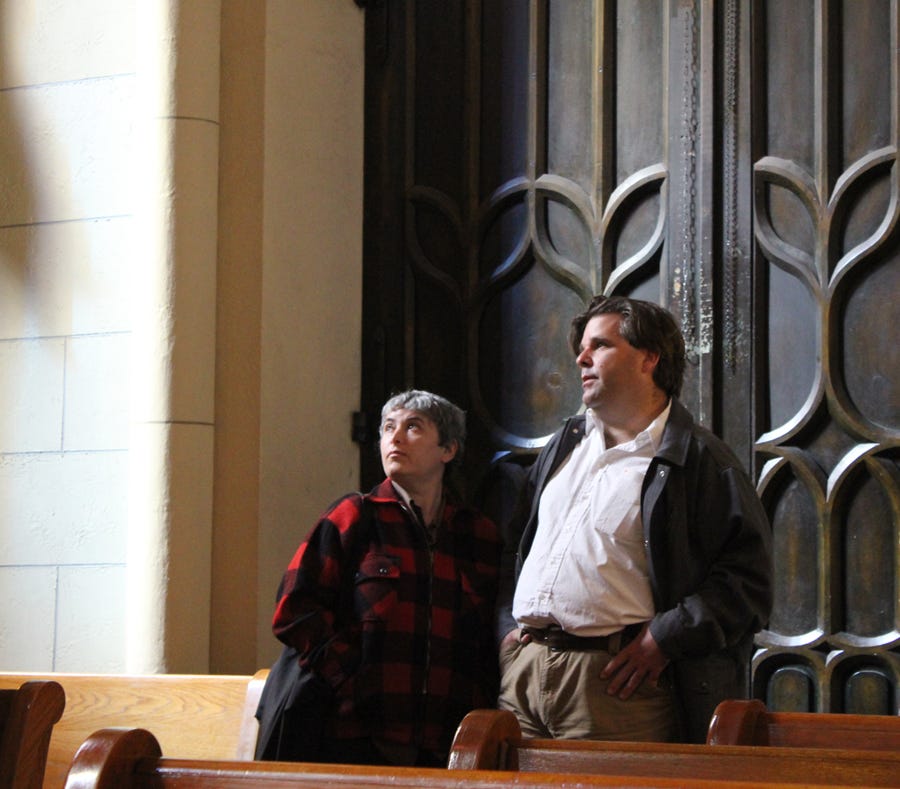 yrs,
Kim and Richard
Esotouric