Taking stock of the many LA landmarks lost to one-man wrecking ball Jose Huizar's political ambitions, from the Ambassador Hotel to 6th Street Bridge

Gentle reader...

This week, Richard turns 50. Kim was having a hard time deciding on a gift suitable for such an auspicious occasion.

But as it happens, the gift was already all wrapped up at the local FBI office, in the form of sealed search warrants for the City Hall office and home of embattled Los Angeles Councilman Jose Huizar, the one-man wrecking ball who has caused so much grief for local preservationists during his long reign of terror.

Yesterday, Council President Herb Wesson stripped Huizar of his powerful committee seats, including chairmanship of PLUM, which will soon decide the fate of our Times Mirror Square landmark nomination. (Psst, if you could send an email of support by Monday, we'd so appreciate it!)

With Jose Huizar casting the deciding vote for development in Los Angeles, the preservation community knew the fix was in. But we still fought to save the soul of the city, and sometimes we even won. But the losses have been agonizing.

Jose Huizar's political career is decorated with the ruins of Los Angeles landmarks. As President of the Board of Education, he rammed through the decision to raze the Ambassador Hotel, a loss that created deep rifts in the preservation community and nearly broke its spirit.

When seismic concerns made it necessary to rebuild the iconic Sixth Street Bridge, Huizar pursued an international design competition instead of respecting the Boyle Heights community's desire for a faithful restoration, as promised by the Community Redevelopment Agency.

Pershing Square, too, was subject to an international design competition, ignoring public sentiment favoring a restoration of John Parkinson's 1910 park plan.

Parker Center, a masterpiece of mid-century design and one of the finest buildings in the city's portfolio, is presently being demolished, the first step in Huizar's proposed partial privatization of the Civic Center.

Broadway, which was a thriving Latino business district for decades, died on Huizar's watch—even as he boasted about the supposed successes of his Bringing Back Broadway initiative and sought Federal funding for a pointless streetcar loop to L.A. Live. His council office dedicated enormous resources to an annual street party, when for one night every historic marquee obnoxiously featured Huizar's name in lights, every photo op a political advertisement.

With Broadway storefronts vacant and the pedestrian culture gone every other day of the year, vandals came and scrawled their tags all over the landmark buildings. Despite a few high profile leases, our historic National Register Broadway Theater District has never looked worse.

When community members successfully landmarked Kurt Meyer's lyrical Lytton Savings on Sunset Boulevard, Huizar and his cronies altered the agenda so that Frank Gehry's development plan was heard first, dooming the bank to likely demolition.

On Skid Row, where thousands camped on the sidewalks, a humanitarian crisis spiked to third world levels. Instead of helping this vulnerable community, Huizar colluded with local business interests to sabotage their efforts to form a Neighborhood Council and have an independent voice.

In Boyle Heights, too, there was a marked lack of leadership, even as gentrification fears sparked protests and conflict in the streets. Huizar offered no support to the low-income tenants of the historic Wyvernwood garden court apartments, who face eviction for a proposed high-rise redevelopment scheme. Roosevelt High School's historic R Building, so significant in Chicano history, was demolished as the councilman took controversial meetings with charter school advocates, and allegedly directed his staff to fundraise for his Catholic high school on city time.

And just this week, the landmark Pickle Works warehouse in the Arts District burned, amidst reports that the city-owned building contained a well-known homeless encampment. And while Huizar skipped work in the aftermath of the FBI searches, the pending landmark Little Rascals house on Motor Avenue was illegally demolished by the owner.

But tomorrow is Richard's birthday, and the universe has given him an incredible gift: our beloved Los Angeles is no longer at the mercy of a man who will always choose development over history, the desires of billionaires over the needs of his constituents, and who treats his female employees like a harem.

Until and unless the FBI raids result in criminal charges, we're left to wonder if Jose Huizar's many bad land use decisions were the result of corruption, disinterest, incompetence or if some are the work of an unskilled wannabe urban planner with too much power, too little taste. But this much is clear: Jose Huizar's reign is done. Now let's all pull together to clean up his mess and hold future office holders to a higher standard, as people and as policy makers. This incredible city deserves nothing less, and representing her citizens is a sacred trust.

P.S. It's not too late to Save Parker Center!

Gift certificates are now on sale through Christmas Eve. We're back on the bus on Saturday with the Wilshire Boulevard Death Trip, a voyage back in time to explore Art Deco marvels, mystical fossil fans and some strange and terrible crimes. Join us, do!
SUPPORT OUR WORK
If you enjoy all we do to celebrate and preserve Los Angeles history and would like to say thank you, please consider putting a little something into our digital tip jar. You can also click here before shopping on Amazon. Your contributions are never obligatory, but always appreciated.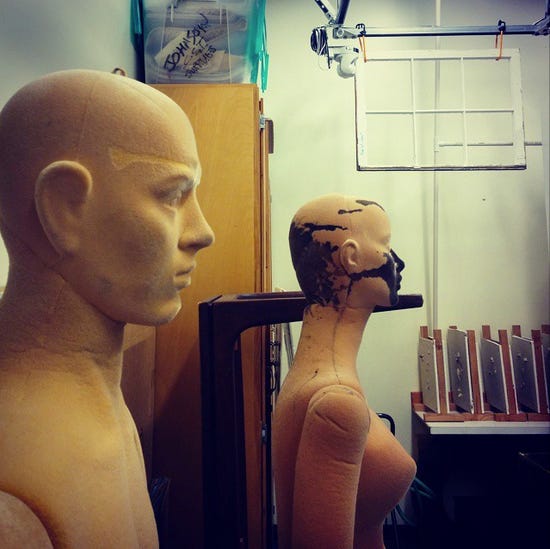 LAVA'S FORENSIC SCIENCE SEMINAR - SUN. 1/27

Four times a year, we gather in the teaching crime labs of Cal State L.A. to explore the history and future of American forensic science. On January 27, join us for an inquiry into Arson and After, from cold case clearance to the impact on an arsonist's family. Your $36.50 ticket benefits graduate level Criminalistics research.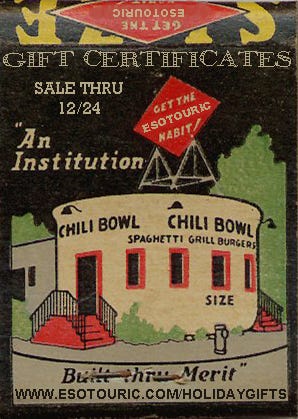 GIVE THE GIFT OF... US!

GIVE THE GIFT OF... US! The holidays are upon us, and with them the obligation to come up with something agreeable for all kinds of people. We'd like to make gift shopping easy on you, with the gentle suggestion that an Esotouric gift certificate is always the right size and color. The recipient can chose from something naughty or nice from our wide range of bus adventures, and you'll save on our regular ticket prices when you buy three or more before 12/24. For more info or to reserve, click here.
COMING SOON

WILSHIRE BOULEVARD DEATH TRIP - SAT. 11/17... Wilshire Boulevard is an iconic Los Angeles thoroughfare—from its prehistoric origins as a path forged by extinct megafauna to the spectacular Art Deco monuments of the Miracle Mile. It's also ground zero for some deeply strange, only-in-Los Angeles crimes and oddities that played out against the backdrop of the boulevard. The deceptively simple route contains a multitude of mysteries, from cruel plots, divine inspiration, historic preservation, love gone sour, lucky breaks and weird tales, Wilshire Boulevard Death Trip, a dark day's out among the city's most glittering architectural gems. (Buy tickets here.)

RICHARD'S 50th BIRTHDAY BUS ADVENTURE - SAT. 11/24... In partnership with the Huntington Library and the new Architects of a Golden Age exhibition. (Sold out with a waiting list.)

PASADENA CONFIDENTIAL - SAT. 12/1... The Crown City masquerades as a calm and refined retreat, where well-bred ladies glide around their perfect bungalows and everyone knows what fork to use first. But don't be fooled by appearances. Dip into the confidential files of old Pasadena and meet assassins and oddballs, kidnappers and slashers, black magicians and all manner of maniac in a delightful little tour you won't find recommended by the better class of people. (Buy tickets here.)

HOTEL HORRORS & MAIN STREET VICE - SAT. 12/8... Last tour of the year! Through the 1940s, downtown was the true city center, a lively, densely populated, exciting and sometimes dangerous place. But while many of the historic buildings remain, their human context has been lost. This downtown double feature tour is meant to bring alive the old ghosts and memories that cling to the streets and structures of the historic core, and is especially recommended for downtown residents curious about their neighborhood's neglected history. (Buy tickets here.)

THE REAL BLACK DAHLIA - SAT. 1/5... Join us on this iconic, unsolved Los Angeles murder mystery tour, from the throbbing boulevards of a postwar Downtown to the quiet suburban avenue where horror came calling. After multiple revisions, this is less a true crime tour than a social history of 1940s Hollywood female culture, mass media and madness, and we welcome you to join us for the ride. This tour usually sells out, so don't wait to reserve. (Buy tickets here.)

WEIRD WEST ADAMS - SAT. 1/12... On this guided tour through the Beverly Hills of the early 20th Century, Crime Bus passengers thrill as Jazz Age bootleggers run amok, marvel at the Krazy Kafitz family's litany of criminal misbehavior, visit the shortest street in Los Angeles with its magnificent views of the mansions of Alvarado Terrace and stroll the haunted paths of Rosedale Cemetery. Featured players include the most famous dwarf in Hollywood, mass suicide ringleader Reverend Jim Jones, wacky millionaires who can't control their automobiles, human mole bank robbers, comically inept fumigators, kids trapped in tar pits, and other unusual and fascinating denizens of early Los Angeles. (Buy tickets here.)

Additional upcoming tours: Echo Park Book of the Dead (1/19), Raymond Chandler's Los Angeles (2/2), Boyle Heights & Monterey Park (2/16), Special Event: Silent Echoes Film Locations Tour (3/2, one seat available), Special Event: Mansonland (3/9, sold out with waitlist), Special Event: Mansonland (3/30, sold out with waitlist) and Special Event: The 1910 Bombing of the Los Angeles Times (4/6).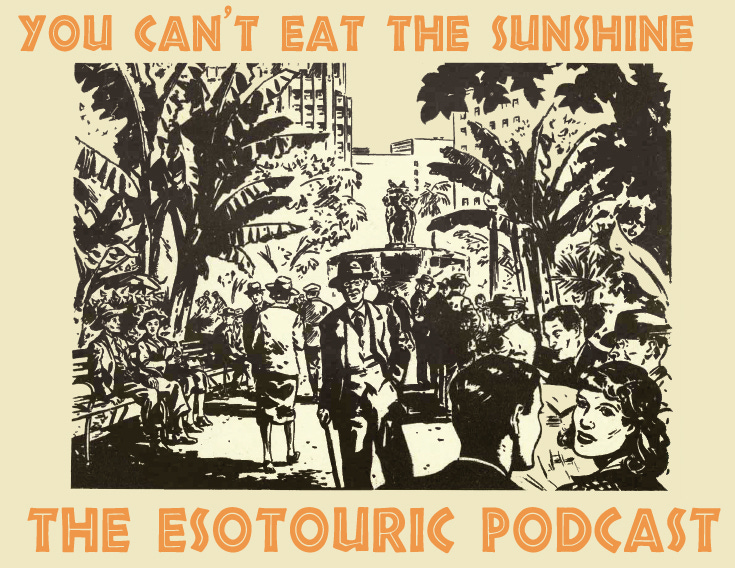 OUR HISTORIC L.A. PODCAST
Episode #132 is Illuminating Los Angeles: Elmore Leonard & The Triforium. Meet Gregg Sutter, who is hosting a new bus tour about the screenwriter he aided for 33 colorful years, then get the skinny on reactivating Joseph Young's 1975 musical phantasmagoria. Click here to tune in. New: find stories on the map!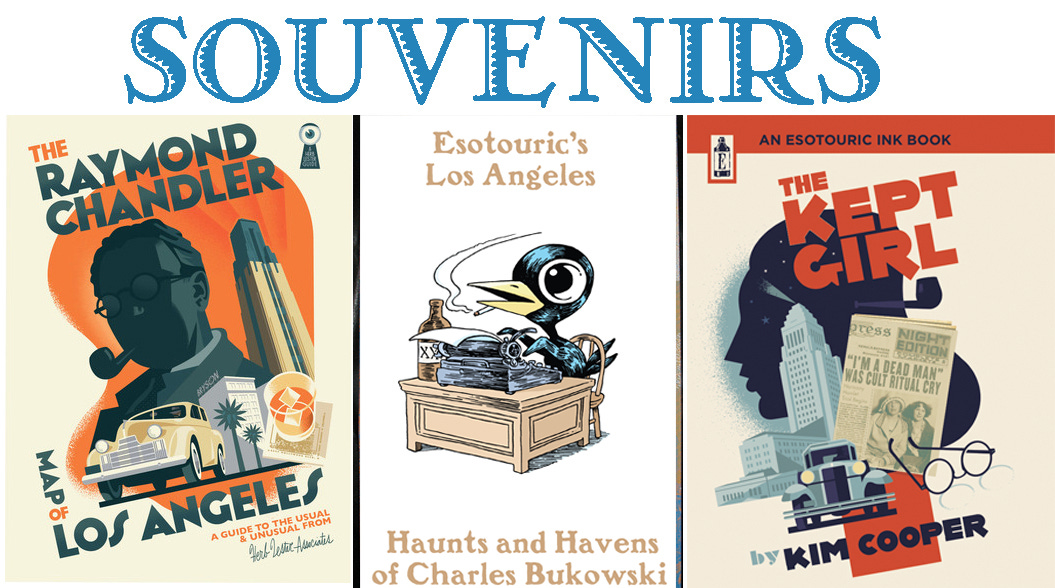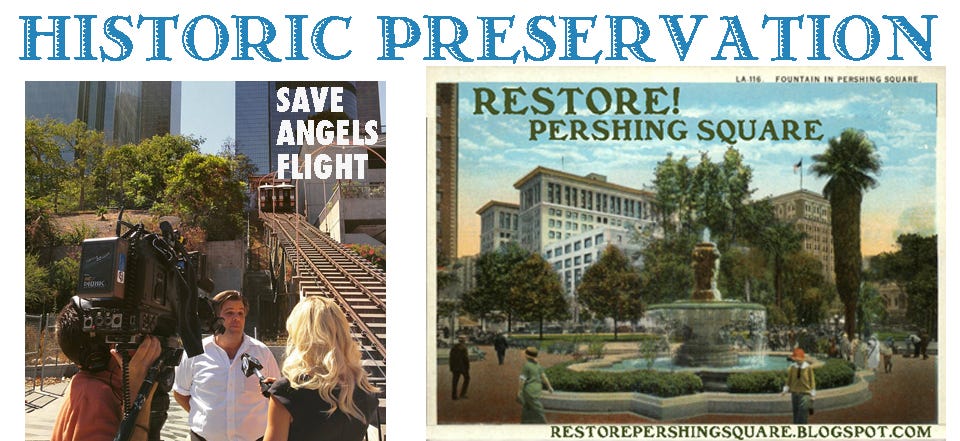 AND FINALLY, LINKS
Blessed are the genealogy nerds, who are comfortable living in the past and sometimes carry messages forward into our time.

How nice that Julia Morgan's Hollywood Studio Club will shelter homeless women. Not so nice: the foster kids who are being thrown out on the street.

We know the depressing history of neglect and malfeasance too well to get our hopes up, but it would be cool if the city finally did something useful with Skid Row's landmark Fire Station No. 23.

Frogtown has its own architectural landmarks; it's silly and ahistorical to move one of Silver Lake's character defining buildings down to the river.

San Gabriel Valley history is in Mitchell Crawford's blood, so it's no surprise he's fundraising to help the restore Roady's restaurant's cool-but-rusty neon sign.

It's too damn quiet around ALOUD.

Gorgeous old school styling and a lot to think about in Boyle Heights' newest mural.

The Woolsey Fire took the Western Town at Paramount Ranch
and the nearly-restored Sepulveda Adobe.

Thinking of Mike Davis' prescience and our friends and favorite places in the Malibu. Mike took a lot of abuse for writing this.

A lack of transparency decried as Mitch O'Farrell demands the County deaccession Columbus statue. Why is a city councilman even weighing in on County art holdings?

Long overdue, and very exciting news: the supervisors are considering adaptive reuse for County General Hospital, an Art Deco masterpiece that could house thousands of Angelenos.

Welcome to L.A.'s newest protected HPOZ neighborhoods: Carthay Square, El Sereno-Berkshire, Oxford Square, Sunset Square and the long-overdue, totally amazing Miracle Mile.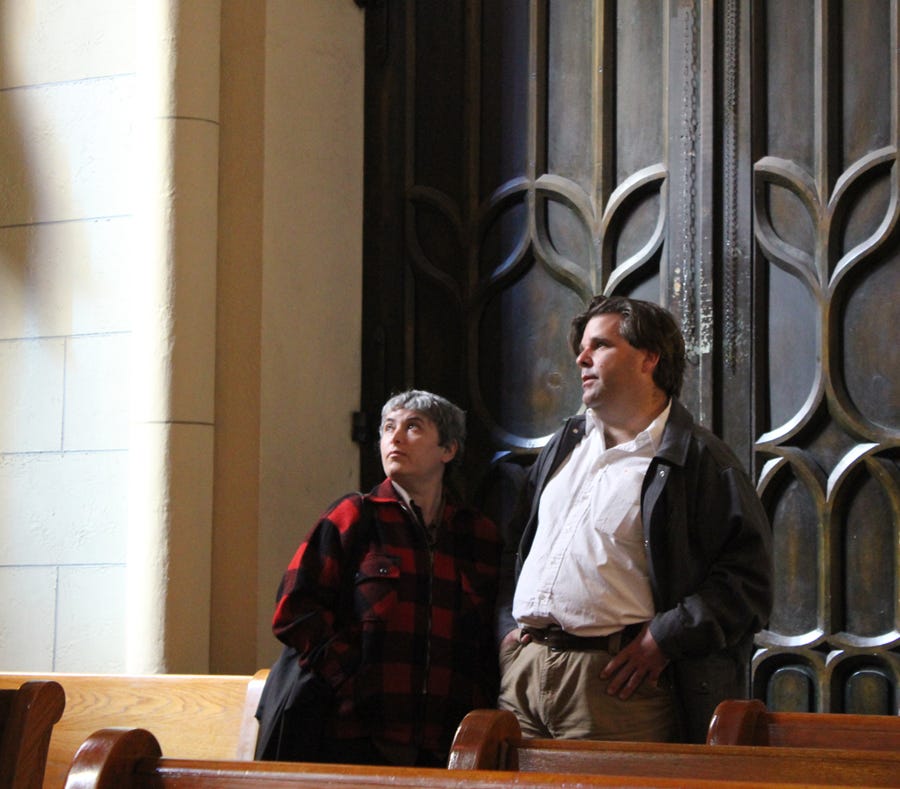 yrs,
Kim and Richard
Esotouric