Doing the Devil's Work in the City of Angels: Jose Huizar is Still Pulling the Strings on Landmark and Land Use Decisions in Los Angeles

Gentle reader...

For eleven years, off and on, we've been working on a landmark nomination for the historic Los Angeles Times buildings. The process has brought amazing people into our lives, and been an education in public policy, planning, modernism and the powerful players who shaped, and continue to shape, the city we love.

On Tuesday, we went into Council Chambers at City Hall to face a very different PLUM committee than would have decided the nomination's fate a month ago. Chairman Jose Huizar was raided by the FBI on November 7, and ostensibly no longer has a say in Los Angeles land use decisions. (In fact, the new chair's office told us to stop asking for a meeting with them about landmarking Times Mirror Square, because the decision was Huizar's.)

And yet, after public comment from a number of history-loving citizens, and a number of folks paid by their unions or jobs to speak against preservation, Jose Huizar's policy deputy stepped up to the mic and asked the committee to do something unprecedented: to take our carefully considered landmark nomination, which had been unanimously approved by the Cultural Heritage Commission, and carve it up. (Unprecedented, but not unfamiliar: the anti-preservation speakers had come with prepared remarks asking this, too.) Canadian developer Onni Group really wanted permission to demolish the west half of the block. Couldn't the committee see fit to make that happen?

There followed a low rumble of "jobs, housing, Airbnb" and then the deal was done. These five guys, who cash check after check from the real estate industry as the city falls apart, chose their sides long ago. To them, Los Angeles is for sale. And so they carved a landmark up, because one of the biggest developers around wants it that way. If you'd like to see for yourself, here's video of the proceedings.

Funny thing about Onni Group, though: in Seattle, where they let the Art Deco Seattle Times become so unsavory a drug den that the city demolished the protected landmark, the promised apartment towers on site will in fact be offices, because that's more profitable. And nothing in Tuesday's vote requires Onni Group to make good on their promise to build hundreds of apartments in Los Angeles.

As Harry Chandler, whose family ran the Times and built the landmark on the chopping block, told a reporter after the vote: "You never know what happens when developers and City Hall get together. Once again, the developer has won and the citizens have not."

But although this was an upsetting setback, Times Mirror Square isn't done for at all. We will continue to shepherd this nomination through the stages of the process, and with each step forward our preservation forces grow, and see clearly the kind of people who run Los Angeles and for whom.

City Council must vote on the landmark nomination by December 12, or it will expire with no action a week later. Does Onni Group prefer not to be restricted by a landmark, even a partial one? Why is Jose Huizar, off committees and rarely seen at City Hall, still making policy decisions for major land use projects? Can past policy decisions be reversed if they were made for private gain? When will Huizar be indicted and resign? So many questions, and every one so important to the future of Los Angeles. Stay tuned!

Somehow, a preservation project that we launched eleven years ago is coming into harbor alongside a major public corruption investigation that has the potential to rock City Hall to its foundations. We don't think that's a coincidence. We do think it's fascinating. Why, you might ask, are we so sanguine about the corruption we find in Los Angeles city government? Why, because we've seen it all before, in the history books and in our beloved noir fiction!

And that's why we're delighted to announce that Kim's novel The Kept Girl is a featured read in the spring Birth of Noir book club series at the historic Workman & Temple Homestead Museum, in fine company with the masters Dashiell Hammett and James M. Cain. Those writers would have a field day with the current crop of miscreants at City Hall. City of Angels, indeed.

Gift certificates are now on sale through Christmas Eve. And just listed on our calendar is the popular Lowdown on Downtown tour (February 23), featuring a stop at the tile-drenched Dutch Chocolate Shop.

We're back on the bus on Saturday with Pasadena Confidential, a true crime excursion on the weird side of the Crown City, from black magicians to rampaging chimps and beyond. It is our second to last tour of the year, and we have room for you. Join us, do!
SUPPORT OUR WORK
If you enjoy all we do to celebrate and preserve Los Angeles history and would like to say thank you, please consider putting a little something into our digital tip jar. You can also click here before shopping on Amazon. Your contributions are never obligatory, but always appreciated.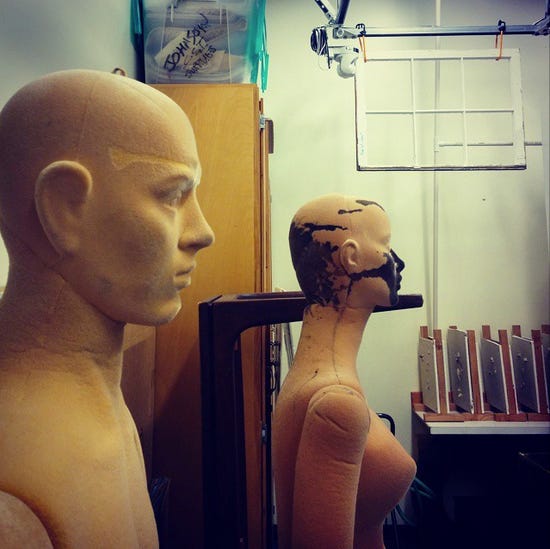 LAVA'S FORENSIC SCIENCE SEMINAR - SUN. 1/27

Four times a year, we gather in the teaching crime labs of Cal State L.A. to explore the history and future of American forensic science. On January 27, join us for an inquiry into Arson and After, from cold case clearance to the impact on an arsonist's family. Your $36.50 ticket benefits graduate level Criminalistics research.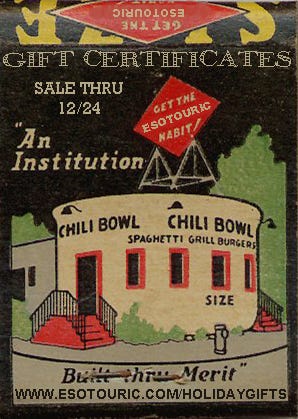 GIVE THE GIFT OF... US!

The holidays are upon us, and with them the obligation to come up with something agreeable for all kinds of people. We'd like to make gift shopping easy on you, with the gentle suggestion that an Esotouric gift certificate is always the right size and color. The recipient can chose from something naughty or nice from our wide range of bus adventures, and you'll save on our regular ticket prices when you buy three or more before 12/24. For more info or to reserve, click here.
COMING SOON

PASADENA CONFIDENTIAL - SAT. 12/1... The Crown City masquerades as a calm and refined retreat, where well-bred ladies glide around their perfect bungalows and everyone knows what fork to use first. But don't be fooled by appearances. Dip into the confidential files of old Pasadena and meet assassins and oddballs, kidnappers and slashers, black magicians and all manner of maniac in a delightful little tour you won't find recommended by the better class of people. (Buy tickets here.)

HOTEL HORRORS & MAIN STREET VICE - SAT. 12/8... Last tour of the year! Through the 1940s, downtown was the true city center, a lively, densely populated, exciting and sometimes dangerous place. But while many of the historic buildings remain, their human context has been lost. This downtown double feature tour is meant to bring alive the old ghosts and memories that cling to the streets and structures of the historic core, and is especially recommended for downtown residents curious about their neighborhood's neglected history. (Buy tickets here.)

THE REAL BLACK DAHLIA - SAT. 1/5... Join us on this iconic, unsolved Los Angeles murder mystery tour, from the throbbing boulevards of a postwar Downtown to the quiet suburban avenue where horror came calling. After multiple revisions, this is less a true crime tour than a social history of 1940s Hollywood female culture, mass media and madness, and we welcome you to join us for the ride. This tour usually sells out, so don't wait to reserve. (Buy tickets here.)

WEIRD WEST ADAMS - SAT. 1/12... On this guided tour through the Beverly Hills of the early 20th Century, Crime Bus passengers thrill as Jazz Age bootleggers run amok, marvel at the Krazy Kafitz family's litany of criminal misbehavior, visit the shortest street in Los Angeles with its magnificent views of the mansions of Alvarado Terrace and stroll the haunted paths of Rosedale Cemetery. Featured players include the most famous dwarf in Hollywood, mass suicide ringleader Reverend Jim Jones, wacky millionaires who can't control their automobiles, human mole bank robbers, comically inept fumigators, kids trapped in tar pits, and other unusual and fascinating denizens of early Los Angeles. (Buy tickets here.)

ECHO PARK BOOK OF THE DEAD - SAT. 1/19... On a crime bus tour honoring the lost souls who wander the hills and byways of the "streetcar suburbs" that hug Sunset Boulevard, see seemingly ordinary houses revealed as the scenes of chilling crimes and mysteries, populated by some of the most fascinating people you'd never want to meet. Featuring the Hillside Strangler, the Bat Man's Love Nest and a visit to Sister Aimee Semple McPherson's exquisite Parsonage, now a museum. (Buy tickets here.)

RAYMOND CHANDLER'S LOS ANGELES - SAT. 2/2... Follow in the young writer's footsteps near his downtown oil company offices to sites from The Lady in the Lake and The Little Sister, meet several real inspirations for the Philip Marlowe character and get the skinny on Chandler's secret comic operetta that we discovered in the Library of Congress nearly a century after it was written. Plus a stop at Scoops for noirish gelato creations and a visit to Larry Edmunds Bookshop. (Buy tickets here.)

Additional upcoming tours: Boyle Heights & Monterey Park (2/16), The Lowdown on Downtown (2/23), Special Event: Silent Echoes Film Locations Tour (3/2, waiting list), Special Event: Mansonland (3/9, waiting list), Special Event: Mansonland (3/30, waiting list) and Special Event: The 1910 Bombing of the Los Angeles Times (4/6).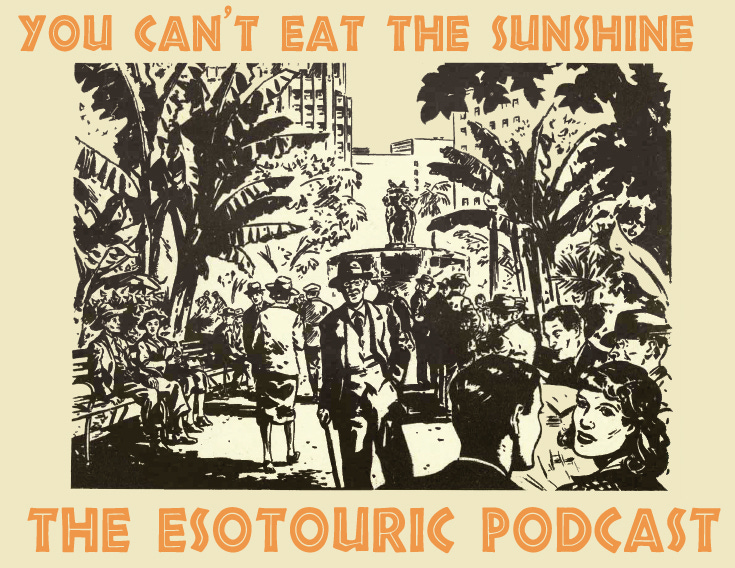 OUR HISTORIC L.A. PODCAST
Episode #132 is Illuminating Los Angeles: Elmore Leonard & The Triforium. Meet Gregg Sutter, who is hosting a new bus tour about the screenwriter he aided for 33 colorful years, then get the skinny on reactivating Joseph Young's 1975 musical phantasmagoria. Click here to tune in. New: find stories on the map!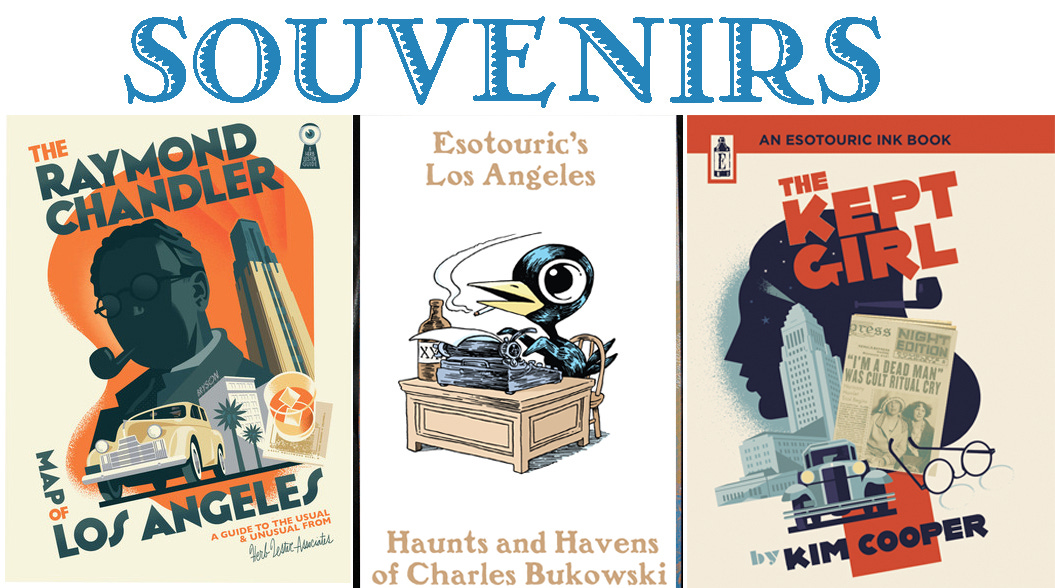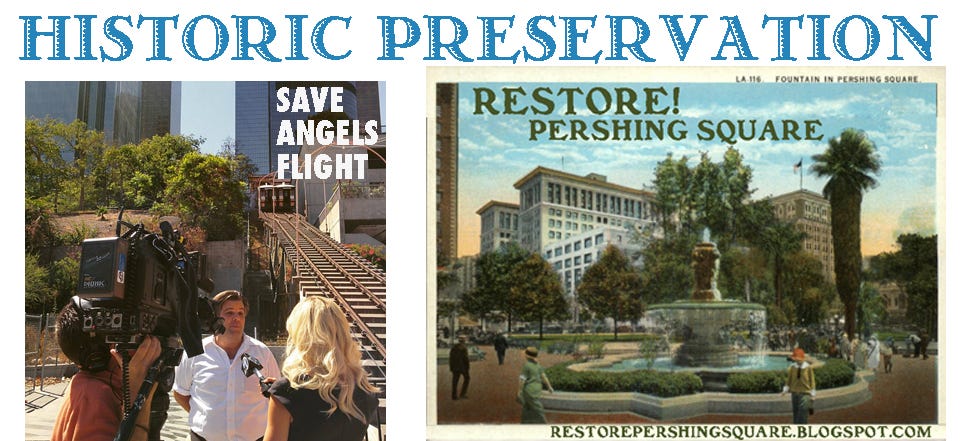 AND FINALLY, LINKS
Cultural Heritage Commissioners sent Sportsmen's Lodge developer back to the drawing board. A little dab of Disney does the trick.

Scorched in the Woolsey Fire, the Western Town at Paramount Ranch will be restored as the Park Service seeks Hollywood patrons.

Once upon a time in Los Angeles, charitably-minded matrons were more fabulous than drag queens at the annual Las Floristas Headdress Ball. See you next spring?

With no oversight or public comment, Hawthorne rushed permission for Elon Musk's tunnel project to undermine the homes and businesses of working class citizens.

Hollywood Councilman Mitch O'Farrell uses Gmail for city business, and his staff is refusing to release emails, claiming personal messages are mixed in with ones of public interest.

Will a Silver Lake Reservoir master plan be the consolation prize for Agence Ter, now that Jose Huizar, prime mover of still-unfunded Pershing Square Renew scheme, is facing a federal investigation?

It wasn't just the burgers at Irv's: it was the way they treated their customers. A very special Route 66 joint is gone now.

The contempt for the LA literary scene that made ALOUD a success is blistering as Ken Brecher dreams of a hipper, younger audience that will pay to see writers at the Ace Hotel.

Oh, Clifton's Cafeteria: so disappointing, for quite some time. Do you remember how great it was? Can it ever return?

Bunker Hill blues, from displacement to discontent.

Beverly Fairfax isn't just locally beloved anymore.

As scrutiny is finally directed at Jose Huizar and his PLUM land use decisions for the benefit of powerful developers, please note Broadway on My Mind, our walking tour series challenging the bad planning and preservation harm of Huizar's Bringing Back Broadway initiative.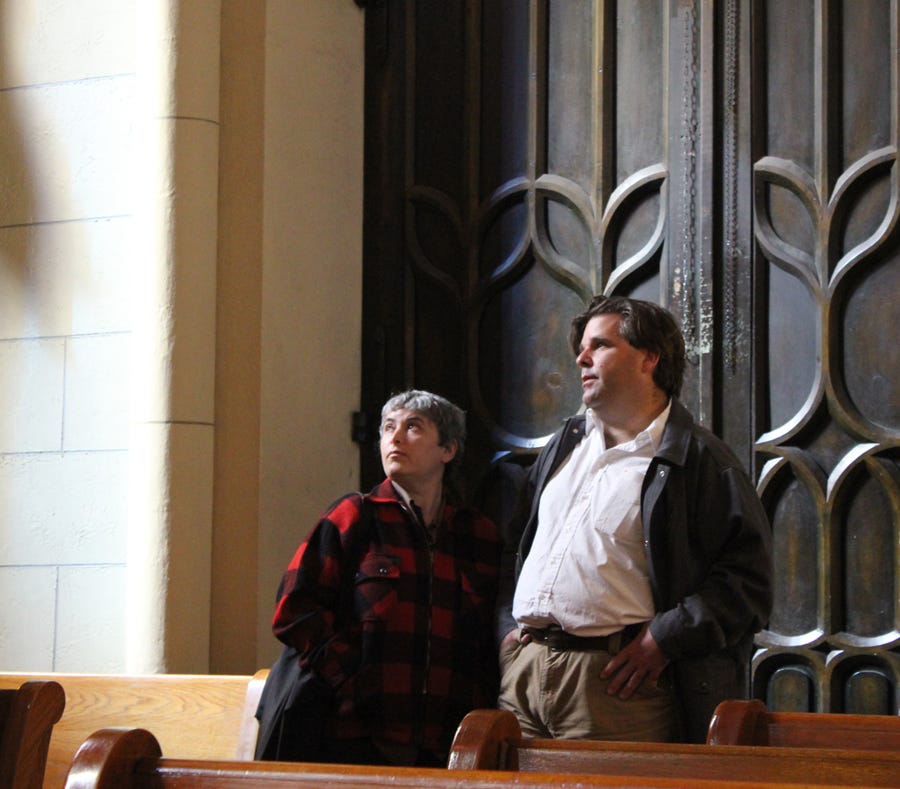 yrs,
Kim and Richard
Esotouric