Celebrating Twin Centennials for Those L.A. Kids, Ray Bradbury & Charles Bukowski
Plus, your chance to preserve Alhambra's gorgeous neon welcome signs from ill-considered blight
Gentle reader,
Greetings from your friendly historic Los Angeles sightseeing tour company, in mothballs until we can again organize groups to gather and explore the city we love. We're still awaiting delivery of some of the technical gear we need to host online events, so a proper announcement is forthcoming. Watch this space!
This week we observed the centennial celebrations of two Los Angeles writers whose differences could fill a book. And yet the hard drinking, hard loving Charles Bukowski (born August 16, 1920 in Germany) and the nimble fantasist family man Ray Bradbury (born August 22, 1920 in Illinois) came from very similar places. They were classmates at Los Angeles High School, and while both were bookish youths, neither had the funds to continue on to a four-year college. So each steered a course to that magical safe harbor at the base of Bunker Hill, the Los Angeles Public Library, and doggedly took a self-directed education from its generous shelves.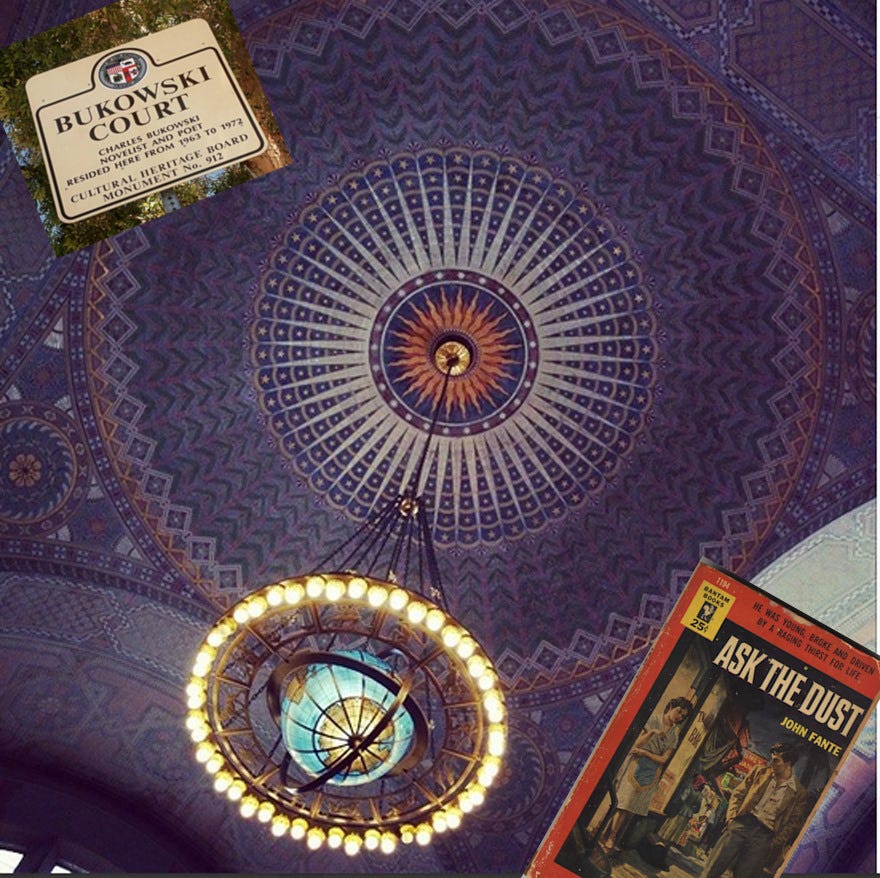 When we take people into the library on our Charles Bukowski tours, many of them are not familiar with the idea of historic preservation. But the experience of stepping across the gleaming inlaid marble floors beneath the stained glass Zodiac chandelier, replicating the path the young Bukowski took on the day he found John Fante's Ask the Dust, the book that showed him he could write frankly about his low life in Los Angeles, is a visceral one.
Bukowski didn't just discover Fante at some generic public library, but right here, in this exact building. He knew the sound of shoe leather on the hard floors; he squinted at the same mid-day brightness. He feels alive in the building, still unpublished and uncertain. For his fans, and especially for those who want to be writers, it's a pilgrimage place. Combined with a visit to the landmarked East Hollywood bungalow where he wrote his first novel Post Office and much of his poetry, any traveler will feel they've visited Bukowski's city.
The place that's most closely associated with Ray Bradbury's creative life was his residence in Cheviot Hills. Although it was never open to the general public, a stop to admire the cute yellow ranch home was a must for his fans. Sadly, starchitect Thom Mayne purchased 10265 Cheviot Drive and obtained a demolition permit just days before a new city ordinance would have alerted neighbors and Bradbury fans that the landmark was in peril. The first anyone heard of a threat was when the walls came down.
And just like that, the neighborhood's most famous resident was erased.
But because the library was so close to the author's heart, the corner of Fifth and Flower has been officially designated Ray Bradbury Square. Look north up Flower Street, past the futuristic Bonaventure Hotel, and you'll see the concrete pedestrian skyways that were meant to connect to a People Mover system, a landscape straight out of his humanistic science fiction. And when you visit Hollywood Boulevard, a once thriving Bookseller's Row, you'll find his Walk of Fame star in front of the neighborhood's last bookstore, Larry Edmunds. Just across the Boulevard, the Hollywood and Highland mall is decorated with a replica of the Ishtar gate from D. W. Griffith's 1916 Intolerance, a daffy architectural feature that Ray Bradbury suggested to city planners, and that the mall's new owner wants to remove.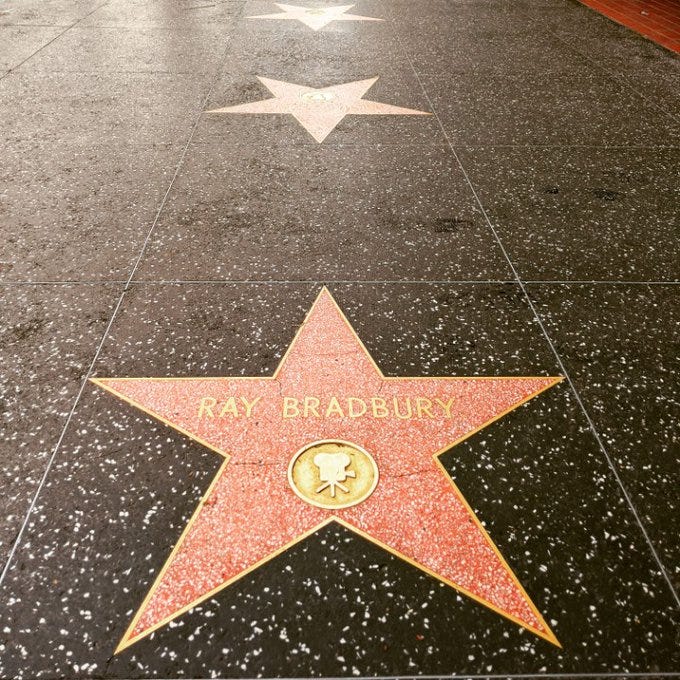 And so with a bit of imagination, which every Ray Bradbury fan has in abundance, his Los Angeles too will reveal itself to the seeker. Or you can stay at home and join Librarian of Congress Carla Hayden, City Librarian John Szabo and select friends for a round robin reading of Fahrenheit 451.
Here's to a couple of ordinary Los Angeles kids who yearned to be something more than just observers, found the voice within themselves that was great, and bent some lovely corners of the city to remind us they were here.
And here's to the young L.A. writers who are finding their feet today, and to the places they love that will be literary landmarks in some distant, unimaginable city. When you start thinking about it this way, the whole crazy town feels like it's sprinkled with pixie dusk.
Do you love old neon signs? Who doesn't, right? The little San Gabriel Valley town of Alhambra has three great ones, way finding markers that demarcate its borders with San Gabriel and Los Angeles. Recently restored, they're a joy to come across when cruising the surface streets.
On Monday, Alhambra City Council is meeting to discuss attaching a homely "Tree City USA" plaque below each of the historic neon signs. It's a small thing, but we think worth objecting to. There isn't enough beauty in the world that it should be marred for no good reason. Here's our blog post explaining the situation, and directing you how to communicate with City Hall by 5pm Monday if you'd like to comment via email or during that evening's meeting. We shared our concerns, and hope you will, too.
yours for Los Angeles,
Kim & Richard
Esotouric
---
Subscribe! In the latest subscriber's edition of this newsletter—$10/month, cheap!—A great Ernest Batchelder fountain hiding in plain sight in Greensburg, PA (pop. 14,892), the tale of a delightful surprise we stumbled upon while sleuthing out landmarks.
WANT TO SUPPORT OUR WORK?
If you enjoy all we do to celebrate and preserve Los Angeles history and would like to say thank you, please consider signing up for the subscriber's edition of this newsletter, or putting a little something into our digital tip jar. Looking for something L.A.-centric to enliven your collection? We've got a swell selection of local history books and maps, some written by us, others sourced from dusty warehouses. And we finally figured out how to ship these goodies direct from our quarantine pad to yours! For a wider selection, Bookshop uses the power of distributor Ingram to help independent bookstores stick around. We've curated a selection of uniquely Los Angeles titles, and when you order from these links, it supports participating local shops, and us, too. You can also click here before shopping on Amazon. Or you can reserve a gift certificate to join us for a tour once we're back on the road... & if you love what we do, please tell your friends.
AND WHAT'S THE NEXT TOUR? WHO KNOWS?!
We're dark until public health officials determine that groups can gather safely. But we've got 138 episodes of the podcast You Can't Eat The Sunshine free to download for armchair explorers, and videos of the Downtown L.A. LAVA walking tours, plus Cranky Preservationist videos.
---
AND FINALLY, LINKS
Road Trip! Although public bus tours are on hiatus, we still get around on our social distancing road trips around our beloved Los Angeles. Be a virtual backseat companion when you click the #esotouricroadtrip hashtag, on Instagram, Twitter or Facebook.
New on the Esotouric blog: Urgent! Sister Corita Kent's Art Studio Threatened With Demolition. More reporting from L.A. Taco, and The Corita Art Center tells how you can help.
Corruption corner: Jose Huizar requests a trial continuance. Discovery includes 83,311 pages of reports/emails and 93,000 intercepted wires including 260 hours (!!) of audio recordings. PDF link…. Government's case is 15-20 days. Trial moved to 6/22/2021. Additional defendants anticipated to join Huizar in the dock! PDF link… Pacifica seeks to shutter historic Japanese retirement home Keiroclai and build multi-family housing. It will have great views of Jose Huizar's unfinished Sixth Street Bridge. A lawsuit has been filed by enraged community members who believe the non-profit has sold them out… Hamburger's People's Store on Broadway was a thriving garment industry hub when developers, high on Jose Huizar's supply, bought it for $122 Million in 2014. Vacant ever since, shrouded in scaffolding, it's available again as financing falls through.
Black Metal Apartment Buildings, Los Angeles, CA, 2016 (Sean Tejaratchi, LiarTownUSA).
Heartbreaking. RIP to "Mr. G.," the devoted keeper of the Griffith Park Merry-Go-Round. May his carved ponies prance on.
Powerful letter from Bunker Hill native son Gordon Pattison in the Los Angeles Times, responding to the story about the racist eminent domain seizure of Bruce's Beach by the city of Manhattan Beach. Gordon reminds us that poor white Angelenos were similarly displaced.
More on the disturbing situation at South Pasadena City Hall, where a longtime councilwoman created virtual constituents to attack her political foes. Cheers to the dedicated citizen who asked the right questions and got the digital dirt to stop it.
The recent Salton Sea earthquake swarm reminds us of a visit to the mud pots and mud volcanoes that have been carving away at the Calipatria landscape. These geothermal oddities have undermined train tracks!
What unexpected happy news! Stan's Donuts is just a memory, but Primo's Donuts (since 1956) is moving in to keep that Westwood corner smelling sweet. But will Stan let the Primo Family add his famous Huell peanut butter donut to the menu?
Cheers to Claire Cancilla on her Columbia Historic Preservation M.S. thesis on the theme of William L. Pereira's Modern Architecture in Los Angeles: History and Preservation Challenges. We shared some insights with her on our Pereira in Peril battles.
Wish we could see the outtakes from this Eastern Airlines' 1971 L.A. Dream ad. 38 seconds of wonder.
"Along with many other community members, I am thoroughly perplexed by the ongoing redesign of LACMA's 20-acre campus. It almost feels like a joke." -Rachel Reyes.
L.A.'s first drive-in movie theatre drove the neighbors nuts.
Noir scribe, meet the master. Warren Zevon's personal copy of The Letters of Raymond Chandler is up for auction on eBay, with the proceeds going to progressive causes close to the family's heart.
Richard Neutra's Lovell Health House has been "on the market" for some time, but now there's a real listing, with architecturally distinctive properties agent Crosby Doe. And a price tag: $11,500,000. If only LACMA was serious about collecting houses.
Save the date: September 29, the Los Angeles County Board of Supervisors considers the landmark nomination for Alpine Village. This offbeat commercial compound is so beloved by the community, so neglected by its longtime owners. New management would be transformative!
Laguna Nigel's jaw-dropping Ziggurat under threat from the U.S. government. Here's our email asking them to find a preservation solution for this retro-futuristic Pereira in Peril. You can send one, too, through September 4.
New kid on the block LACMA welcomed by its department store neighbors in 1965.
Every historic Los Angeles bungalow court is a precious example of naturally occurring affordable housing. Now one neglected staircase community in Echo Park is a little closer to becoming a protected landmark.
A stunning neon ghost sign emerges in Pasadena, a relic of the Adohr dairy operated by the Rindge family, who owned Malibu. Preservationists are hoping it sticks around, and are taking lots of photos and pestering new tenant Howlin' Rays.