Noir Los Angeles is thrilling...
but not if you have to live in it!
Gentle reader…
Around the time the world the shut down, The New York Times reached out to us, asking if Kim would be interested in writing a branded content feature promoting the new Penny Dreadful: City of Angels television series.
The theme: the 1930s activism of cafeteria king Clifford Clinton, corruption in City Hall, and how nothing really changes in Los Angeles.
They didn't have to ask her twice!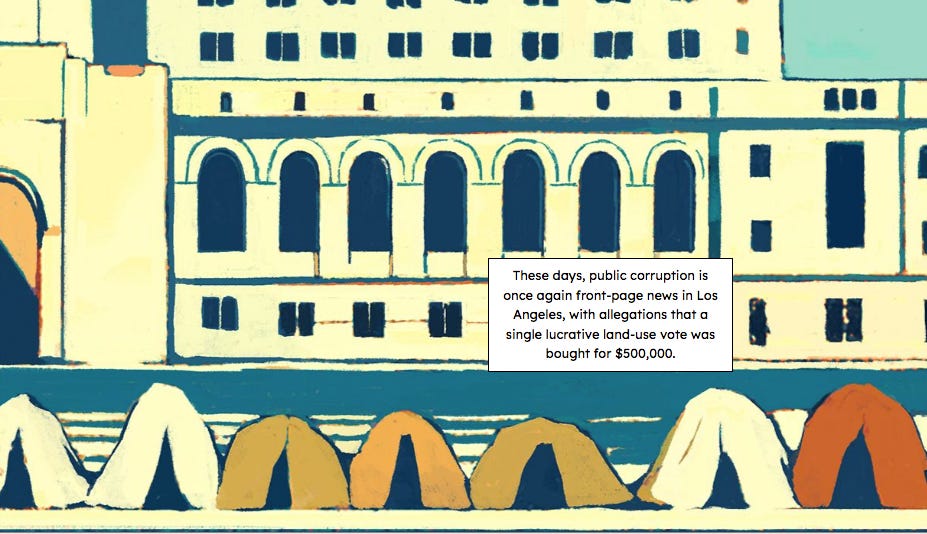 While Reforming the City of Angels is essentially an ad for a TV show, the story was exhaustively fact-checked, as befits a reported feature in The New York Times. And the artwork, derived from historic photographs and subtly animated by Hokyoung Kim, is stunning.
We hope you enjoy this tale of one man's courage in the face of systemic racketeering, and the parallels between Clinton's 1930s work, and that of blogger Adrian Riskin in 2020.
As this beautiful, broken city faces challenges so enormous that it's hard to wrap our brains around all that needs fixing, we look back to Clifford Clinton. We imagine how hopeless he must have felt, after crooked cops bombed his house on orders from City Hall, after their paid thugs sabotaged his cafeterias and raised his taxes, and he huddled with his wife and kids and asked them, "Dare we go on?"
Because they did dare, Los Angeles became a place worth living in. And although we have again fallen into the greedy, vicious traps that Clinton and his fellow reformers worked so hard to eradicate, history shows there is a path back into the light.
If the 2020 cable television season is any indication, with Penny Dreadful: City of Angels and the forthcoming Perry Mason reboot, the hunger for noir Los Angeles stories is insatiable.
When he was living through his own slice of L.A. noir, Clifford Clinton wasn't entertained or titillated. The guy lurking in the shadows wanted him dead, his cafeteria business shuttered, his name dragged through the mud and left stinking. Without a script, there was no certainty that the good guy would win the day, or even live through the night.
But once the wicked forces were vanquished, sent off to prison or to make huge fortunes in Las Vegas, we think even Clifford Clinton could look backwards and appreciate the dramatic arc of his great adventure battling the darkness.
The cafeteria he left us is gone now, replaced by fancy bars without much soul, but like our friend Mr. Pancake preached on what was supposed to be its re-opening day, Clifton's lives on in the hearts of the people.
As all of us Angelenos navigate the strange times that have found us, let's be bold and true like Clifford Clinton, looking out for one another and what really matters, and remembering always that this place is a city of Angels, and each one of us an emissary from the place where Angels dwell.
We promised the You Can't Eat The Sunshine podcast was coming back from hiatus, reformatted to suit the social distancing times with a more conversational structure, featuring our preservation pals calling in from around the Southland. There are now three new episodes available: Stan's Donuts & LACMA, Last Stand on Koreatown's Little New York Street, and the brand new Hollywood's Historic Preservation Heroes & Villains, a deep dive with John Girodo on the dark side of redevelopment featuring the restless ghosts of activists who came before us. Come hang out with us virtually, and let's keep the conversation going, even while we can't invite you out to take a tour.
In the latest subscriber's edition of this newsletter—$10/month, cheap!—we expose a forgotten river beneath Downtown Los Angeles, and the rare photograph that property owners would rather you didn't see.
WANT TO SUPPORT OUR WORK?
If you enjoy all we do to celebrate and preserve Los Angeles history and would like to say thank you, please consider signing up for the subscriber's edition of this newsletter, or putting a little something into our digital tip jar. Need a good read? Bookshop uses the power of distributor Ingram to help independent bookstores stick around. We've curated a selection of uniquely Los Angeles titles, and when you order from these links, it supports participating local shops, and us, too. You can also click here before shopping on Amazon. Or you can reserve a gift certificate to join us for a tour once we're back on the road... & if you love what we do, please tell your friends.
AND WHAT'S THE NEXT TOUR? WHO KNOWS?!
We're dark until public health officials determine that groups can gather safely. But we've got 135 episodes of the podcast You Can't Eat The Sunshine free to download for armchair explorers, and videos of the Downtown L.A. LAVA walking tours, plus Cranky Preservationist videos. And while we're not shipping physical books right now, Kim's 1920s cult mystery novel The Kept Girl is available as an ebook.

---
AND FINALLY, LINKS
In LACMA News: As LACMA demolishes its historic campus, some essential worker is scanning and uploading obscure 1980s exhibition catalogs to Archive.org, including this terrific Elza of Hollywood textiles pamphlet. (Full collection link)… Demolition Progresses; Protests Continue… The world's most passive-aggressive architectural competition has just announced six finalists…. Mimi Zeiger calls out the "cruelness of demolishing LACMA, a significant piece of LA architecture, at a moment when Angelenos are unable to bear witness."… LA Times Art Critic Christopher Knight Wins the 2020 Pulitzer Prize for His Blistering Appraisal of LACMA's $750 Million Expansion… #SaveLACMA
Recommended reading: last year, Dennis Burke asked us to read the manuscript of Diary of the Tiger Woman, a novel about the Clara Phillips hammer murder sensation, to ensure his 1920s Downtown Los Angeles felt true. It's a swell time travel trip, and more wholesome than that other tiger tale!
File under: bittersweet. Tonight was to be the re-illumination ceremony for Vermonica, a beloved public art installation by Sheila Klein that the city of Los Angeles illegally destroyed. With public records activist Adrian Riskin, we helped expose this crime, and advocate for Vermonica's restoration. The party will happen, and be even wilder when it does.
From 2008-10, we advocated under the banner of Save LAPL to stop Mayor Antonio Villaraigosa from balancing the Los Angeles city budget on the back of our public libraries. A coalition got Measure L (PDF link) on the ballot, and citizens said YES! That's why Eric Garcetti's 2020-21 austerity budget didn't touch LAPL: it's against the law.
The FBI's sprawling public corruption investigation caught one of their own: Babak Broumand mined the internal database to tip off a lawyer tied to Armenian organized crime.
Our hearts are broken for Bakersfield. The way Angelenos feel about LACMA coming down during the pandemic, that's Bako folks hearing there will be no return to Noriega Hotel when the world opens up again. Might have been kinder for the family to keep this sad news under their hats. 
Showmanship! The Fly turns up at a premiere at the Rialto Cinema, Coventry Street, London (1958).
LED company produces faux "neon" signs, markets them to historic sites like Farmer's Market as safer, greener than the real thing. That's not true. Also, when LEDs fail, they go to the dump; neon can be repaired. We suspect this one was inspired by Seattle's famed market sign, which is just weird.
RIP Tina Gainsboro (1920-2020), an essential creative player at the Bob Baker Marionette Theater, and one cool lady.
The Glendale News-Press, Burbank Leader and La Cañada Valley Sun, the venerable community newspapers recently shuttered by the billionaire owner of the Los Angeles Times, will be revived by Charlie Plowman, publisher of Outlook Newspapers.
San Antonio Winery, celebrating 102 years in Lincoln Heights, is thriving through this thirsty pandemic. But like all of us in the hospitality business know, it's meaningless without the people.
Petition launched to save Koreatown's Little New York Street in the 700 block of South Normandie Avenue. Join The Cranky Preservationist and pals and ensure nothing hideous is built on this landmark block.
San Gabriel preservation people: join the Historic Preservation and Cultural Resource Commission and help keep one of L.A. County's rare 18th century villages on the right path.
Los Angeles Public Library is creating an archive of how Angelenos weather the pandemic, and you're invited to contribute your creative or documentary work.
Back on the market with a million dollar price chop: the 1925 Pyrenees Castle, Alhambra's only grand mansion, property of Phil Spector, inmate #G63408. With no local historic preservation ordinance, the house and its deodar cedars are not protected.
Under FBI scrutiny for selling land use votes, Jose Huizar can no longer advocate for massive developments in the Arts District. No problem: Mayor Eric Garcetti is happy to push the 2110 Bay Street upzoning along to PLUM. But what's hiding in the metadata? Another Adrian Riskin scoop.
R.I.P. Robert Garcia, who blew the whistle on political grave robbing on the Plaza and fought for a just green city.
The Troubadour is hurting, along with so many L.A. landmarks. Struggling Angelenos can't bail out our cultural institutions, but our government must.
The latest haunting relic in C.C. de Vere's series of demolished Little Lost Angeles landmarks is Ray Bradbury's Cheviot Hills ranch house, tucked into a vintage television console with the glow of a book fire in the windows.
yours for Los Angeles,
Kim & Richard
Esotouric