Shock! Horror! Developers Beg As Los Angeles Planning Commission Says "Hell No" To Times Mirror Square Project
Plus, our wee conspiracy theory about the proposal to demolish Taix French Restaurant for a hideous mixed use complex
Gentle reader,
Did you hear it?
When last we wrote, it was to invite you to listen live as the Los Angeles Planning Commission considered two agenda items related to Onni Group's redevelopment / demolition of the Los Angeles Times buildings that we landmarked in 2018.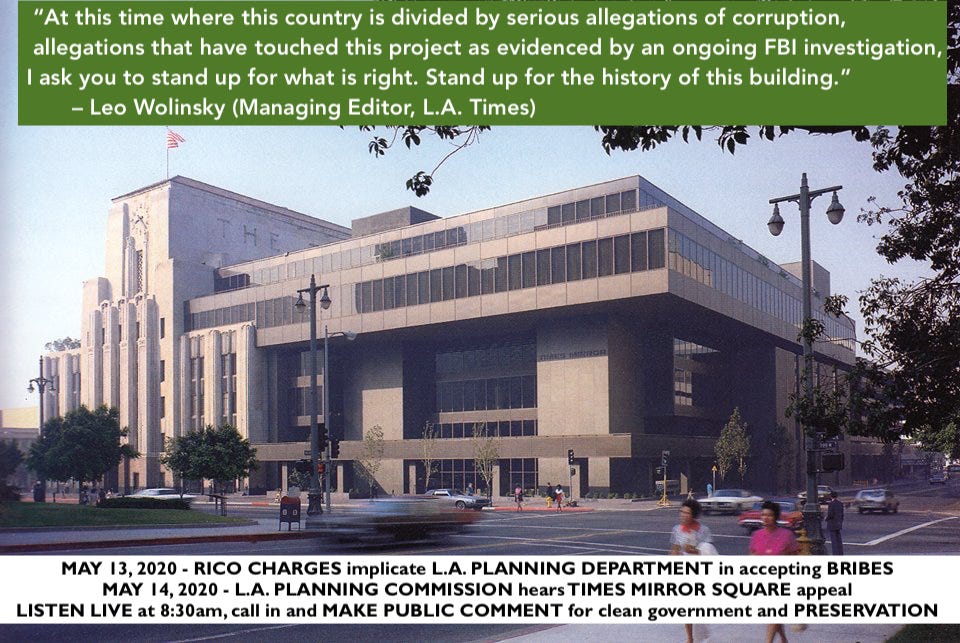 First, they were to weigh the merits of public interest non-profit SAFER's challenge to the Environmental Impact Report (EIR), the prelude to a lawsuit that halted the project's momentum last fall. City Planning advised the Commission to throw SAFER's challenge out, and they did.
This was to be expected: Commissioners, serving at the pleasure of Mayor Eric Garcetti, usually take the recommendations of city staffers when making complicated land use decisions.
It was highly unusual when the Cultural Heritage Commissioners rejected the Office of Historic Resources' recommendation that they ignore the portion of our landmark nomination that designated William Pereira's 1973 Chandler Wing, and it was completely freaking nuts when the PLUM Committee of City Council took out its metaphorical red pencil and X'd that modernist structure out of the Historic Cultural Monument designation.
Both of those peculiar land use decisions were necessary if Canadian developer Onni Group was going to be able to turn its $120 Million purchase of Times Mirror Square, an iconic Civic Center property that no local developer wanted to touch, into an upzoned twin tower cash cow. Perhaps it's no coincidence that subsequent reporting by the Los Angeles Times raised serious ethical concerns about Onni Group and their lobbyists donating large sums to a political action committee funding the campaign of Councilman Jose Huizar's wife, a campaign halted when the Huizar home and his City Hall office were raided by the FBI.
But the wildest twist was yet to come.
Less than 24 hours before the hearing, the Feds dropped a bombshell plea announcement in their public corruption investigation of City Hall's cosy relationship with developers, for the first time invoking the Mafia-inspired Racketeer Influenced and Corrupt Organizations Act Act (RICO).
And as they started discussing Onni Group's Times Mirror Square project, it was obvious that the Los Angeles Planning Commission's love affair with Downtown L.A. development was over. Onni's highly paid lobbyist Dale Goldsmith pleaded for one more chance to make them happy, to no avail.
How certain was Onni Group that the Planning Commission would vote yes on their self-styled "preservation" plan to demolish half of the Los Angeles Times complex? In the latest Los Angeles Conservancy newsletter, they're listed as a top donor tier. Oops!
To quote our blog post, written in a daze after the most unhinged public hearing we've ever virtually attended:
So, what happened at the Planning Commission hearing for Times Mirror Square? Fireworks. And not celebratory fireworks, but the kind of explosion that happens when an errant spark falls on the barge and blows the whole enterprise straight to hell. You can read our blow-by-blow commentary on Facebook, but in short, the Commissioners told Onni Group:
• That their projects suck;
• That the site deserves an architecturally distinguished building;
• That they were disgusted by the lack of affordable housing;
• That offering to donate $1 Million to Pershing Square was stupid;
• That it was their own fault the project wasn't moving forward;
• That they had no intention of violating the Brown Act for them;
• That they didn't care if the funding dried up and the project died.
Then they rejected the appeal and continued consideration of the EIR until July 9, when they expect Onni Group to return with a great design and affordable housing component.
It was glorious! We predict Times Mirror Square will soon be on the market again. And William Pereira's 1973 addition might yet get the thoughtful vertical expansion it deserves.
The entire hearing is now online, and you can listen for yourself here.
Curiously, the Los Angeles Times has not covered any of the bumps in the road impacting the development project that seeks to demolish half of the newspaper's historic home. We've started wondering if there is an official editorial blackout, and if so, why? Times reporter Dakota Smith tweeted that the hearing was happening, but nothing has appeared in print.
Onni Group has another date with the newly critical Planning Commission in July. We'll be reading the tea leaves and watching the Department of Justice press release feed, hoping by that time more of the criminals who sold out our beautiful city for stacks of cash and dirty weekends will be out of power, with court dates as far as their greedy eyes can see. Stay tuned!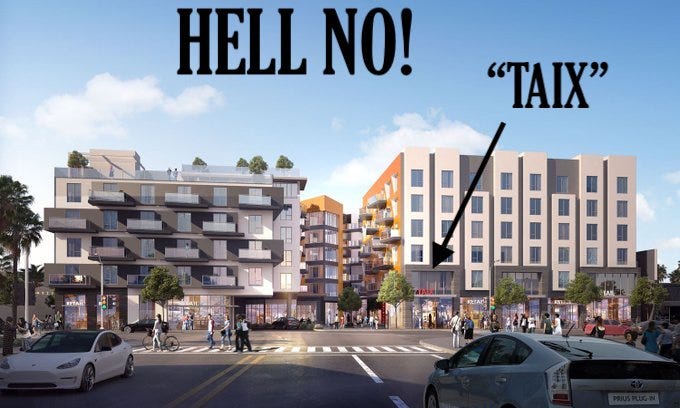 But as one Los Angeles preservation crisis shifts into low gear, there's always another hitting the gas. The hideous mishmash of cheap surfaces and aesthetic errors you see above is the newly released rendering for the site at just north of Echo Park where Taix French Restaurant has served Angelenos since 1962.
The venerable restaurant was quietly sold to Washington State developers Holland Partner Group in an off-market deal last summer, and the initial announcement touted retention of Taix' charming historic features, while developing the surface parking lot and over the restaurant with housing.
Last week, HPG let Los Angeles know what they really intend to build, and the community lost its collective mind. An activist group has formed as The Friends of Taix, seeking not only to landmark the historic restaurant, but to get a seat at the table as plans for the site work their way through a City Hall that has been roiled by public corruption charges tied to upzoned projects like this one. You should sign their petition if you care; we did.
But it's time that we put on our tinfoil hats and channel a voice from the mystic beyond. Because there's something very screwy about HPG's proposal for the Taix site.
A little birdie told us that they developer has been meeting with the Office of Historic Resources, and receiving very clear direction that to make this a project the powers that be can support, it must incorporate those historic features that led the city to designate the intersection Taix Square in 2012.
We know the developer and restaurant owner were also talking with the Los Angeles Conservancy to hash out preservation concerns, because that non-profit was quick to tweet out its dismay about the new renderings, which were very different from what they'd been discussing.
If you were Holland Partner Group, a huge and experienced development firm, why would you deliberately alienate the Office of Historic Resources, the Los Angeles Conservancy and the countless Angelenos who love Taix? Why release a rendering so crummy that even the pro-development blogs gagged a little?
It's May 2020. The world is in the grips of a terrifying pandemic, and the United States is doing a particularly lousy job of containing it. With businesses shuttered and people unable to work, landlords are getting stiffed at every tier of the commercial and residential market. Notes are coming due and funding sources drying up. (Don't believe us? Just listen to the desperation in Onni Group lobbyist Dale Goldsmith's voice during the Planning Commission hearing.) All those apartment units that were illegally rented on Airbnb are sitting vacant, as tourists stay home. The Feds are closing in on the friendly folks in City Hall who enabled two decades of rapacious growth. The odds against developing a massive, mixed use property at Sunset and Park no longer look so good.
So maybe if you're Holland Partner Group, instead of telling your investors that you overpaid ($12 Million) for a run down banquet hall run by a checked out third-generation restaurateur who lives in Utah and that you no longer see the project pencilling out, you have your architects barf up something so wretched, sustained public outcry is inevitable.
Now you have a great excuse to hit the pause button, which has nothing to do with the economic issues. Without community, OHR and Conservancy support, the property is a write off. Maybe you hold, maybe you sell, but there's no new development happening any time soon.
And in the best case scenario, the assets of the restaurant Taix might come up on the open market, so that this terrific place can be aquired by an L.A.-based entrepreneur who cares enough to do the work to bring it back to the level of professionalism, elegance and community activity that befits a 700-seat cultural landmark in the heart of the city.
That's what we see in the tea leaves. After what happened last week with Times Mirror Square, you can't tell us it's impossible!
Our You Can't Eat The Sunshine podcast is back from hiatus, reformatted to suit the social distancing times with a more conversational structure, featuring our preservation pals calling in from around the Southland. The newest episode is #136: The Larry Edmunds Bookshop & the (Nearly) Lost World of Hollywood Book & Memorabilia Dealers. Come hang out with us virtually, and let's keep the conversation going, even while we can't invite you out to take a tour.
In the latest subscriber's edition of this newsletter—$10/month, cheap!—we expose a forgotten river beneath Downtown Los Angeles, and the rare photograph that property owners would rather you didn't see.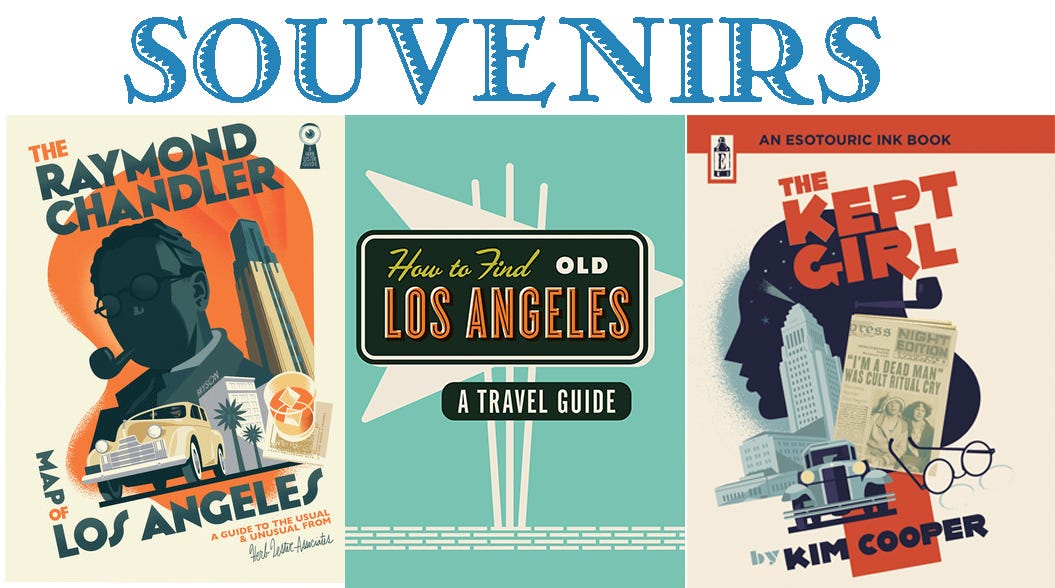 WANT TO SUPPORT OUR WORK?
If you enjoy all we do to celebrate and preserve Los Angeles history and would like to say thank you, please consider signing up for the subscriber's edition of this newsletter, or putting a little something into our digital tip jar. Looking for something L.A.-centric to enliven your collection? We've got a swell selection of local history books and maps, some written by us, others sourced from dusty warehouses. And we finally figured out how to ship these goodies direct from our quarantine pad to yours! For a wider selection, Bookshop uses the power of distributor Ingram to help independent bookstores stick around. We've curated a selection of uniquely Los Angeles titles, and when you order from these links, it supports participating local shops, and us, too. You can also click here before shopping on Amazon. Or you can reserve a gift certificate to join us for a tour once we're back on the road... & if you love what we do, please tell your friends.
AND WHAT'S THE NEXT TOUR? WHO KNOWS?!
We're dark until public health officials determine that groups can gather safely. But we've got 136 episodes of the podcast You Can't Eat The Sunshine free to download for armchair explorers, and videos of the Downtown L.A. LAVA walking tours, plus Cranky Preservationist videos.

---
AND FINALLY, LINKS
In the before times, Alta reporter Santi Elijah Holley joined us on the Charles Bukowski tour, to soak up the atmosphere of historic Skid Row and ask our gentle riders how Buk fits in a post #MeToo world. Turns out he fits just fine.
Take an intimate tour of the Los Angeles Times Mirror Square compound we're fighting to preserve, in these Historic American Building Survey (HABS) photographs produced for the National Parks Service.
About 30 days ago, Larry Edmunds proprietor Jeff Mantor took a leap of faith and asked his community to toss him a life line. His whole world changed, and the iconic Hollywood bookstore is now hovering a few inches above the dirty Boulevard on angels' wings.
Iconic Beverly Hills deli Nate n' Al's is back from the dead, for all your takeout and delivery noshing needs. Kim's grandma Cutie, the Yelp superstar, is smiling in heaven.
Remembering Michael Gotovac, serving up good fellowship from behind Dan Tana's bar since 1968.
Petition to save the garden court bungalow residences on Livonia Avenue, a tight-knit community threatened by development.
Childhood is short, and birthdays are precious. And the Bob Baker Marionette Theatre isn't going to let a pandemic keep your tiny tot from celebrating with cool creatures. Dig the At Home Birthdays options—and no, you don't have to be a child to partake!
Has Du-par's Pasadena location closed for good? Sounds like it, and that's a drag. This former Hamburger Hamlet was a pleasant, honest place.
On Spectrum News 1, Natalie Brunell asks: Do LA City Council Members Have Too Much Control Over Development Projects? Our Richard Schave weighs in and David Ryu adorably suggests the foxes can curb their own chicken stealing habit. Cameo from Numa the cat!
Feel like crying your heart out? Nathan Murray, the third owner of Bernard Burgers closes his doors after 52 years in South Central. - "I didn't get a small businessman loan, y'all were my stimulus check."
The Internet Archive uploaded a bunch of newly digitized home movies, and if you don't mind we're just going to lose ourselves in every magnificent detail of this mid-century Compton hula hooping park party. The sunglasses! The culottes! The cancer sticks!
Holy highest and best use, Bat Man! Another Internet Archive home movie time capsule: agile guys in vintage workwear building a mid-century Los Angeles dingbat apartment building, from tree clearance and Spanish Colonial house demolition to FOR RENT day.
Art Director Michael Salisbury accumulated a lot of neat stuff in a career that stretched from the L.A. Times' cool but financially disastrous weekend magazine West to branding Joe Camel. Why not take a piece of his world home?
There are many useful concoctions in this Victorian household helper, Lee's Priceless Recipes. But we're pretty sure we'd regret following these instructions for growing longer eyelashes for the rest of a short, painful life!
Lux Pendulette (see this cool collector's website) was a popular line of animated molded sawdust clocks that, in at least one instance, demonstrated a remarkable misunderstanding of what people want in a household timepiece. Good boy?
yours for Los Angeles,
Kim & Richard
Esotouric