What happens in Vegas...
provides the impetus for a sprawling public corruption investigation
Gentle reader,
Greetings from your friendly historic Los Angeles sightseeing tour company, in mothballs until we can again organize groups to gather and explore the city we love. Thanks to everyone who responded to the webinar poll. (You can still chime in.) We're learning a lot about what interests you and when you can join us for virtual events. Thanks for all the encouraging comments, too! We're still awaiting delivery of some of the technical gear we need to host online events, so a proper announcement is forthcoming. Watch this space!
Meanwhile, our website has long needed a makeover, and Richard has brought her up-to-date with new tour pages packed with photos from past outings, a direct link to view Nick Coles' short film about us, and clearer paths to discovering lost Los Angeles lore and historic preservation campaigns. Even if you've visited before, we hope you'll give the new edition a spin, and please—pass it on.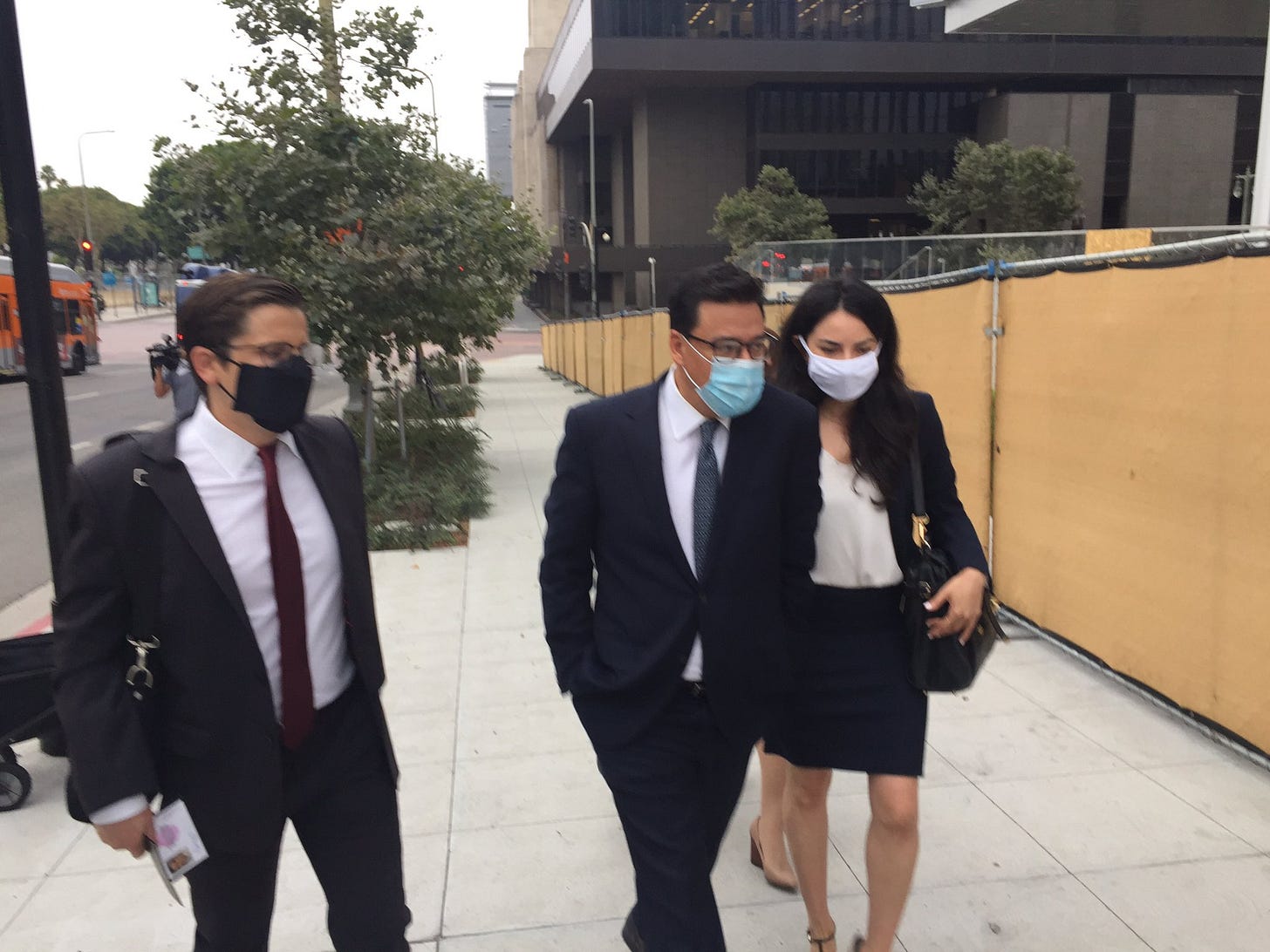 (Photo: Libby Denkmann, KPCC)
Early Wednesday morning, disgraced Los Angeles City Councilman Jose Huizar had a date in Federal court to learn when he will stand trial for public corruption. Huizar and his public defenders could have approached the courthouse from any direction, but the gods were smiling and they came from the east.
Suit rumpled, head bowed, a baby blue medical mask fogging his glasses, the once-powerful politician was dwarfed by the Los Angeles Times buildings that we landmarked, and that he sabotaged for the benefit of Canadian developer Onni Group. It was like a beautiful waking dream after a long night of terrors.
In court, the U.S. Attorney laid out more details of its case against Huizar, and we learned that the investigation kicked into high gear after he was identified by Las Vegas casino security as an elected official who was playing with chips he hadn't paid for. (They look for such things.) When asked for identification, he got up and left $60,000 on the table. Normal!
A prudent person would clean up his act after such a close call, but not Jose Huizar. Taking the "what happens in Vegas" marketing slogan literally, he returned to Los Angeles and kept committing financial crimes for the benefit of "Chairman E" and to the detriment of Angelenos. Only now, the FBI was listening, turning cronies into confidential informants, and slowly building the sprawling criminal case that threatens to bring down Los Angeles City government.
The trial is set for the end of September, though it may be delayed. The U.S. Attorney is prepared to call dozens of witnesses, and does not intend to charge any of Huizar's family members with money laundering. The judge is skeptical that a defendant charged with major financial crimes is actually entitled to the services of a public defender, and has asked Huizar to open his books. On his way out the courthouse door, a City Hall gadfly cornered and mocked the fallen official. It was wonderful.
City Hall seems, finally, to recognize how much trouble it's in. Council President Nury Martinez has edited City Council agendas to falsely state that Huizar's CD14 seat is "vacant," and has her staff preparing motions for minor CD14 projects. Mayor Garcetti diverted funds tied to a huge project in Huizar's district. City Attorney (and 2022 mayoral candidate) Mike Feuer has floated a new ordinance that would erase permits for projects tied to public corruption—which is fine, but what about corrupt projects that the Feds didn't happen to include when making their case?
Of course, a rotten system can't reform itself, and the politicians who are making the most noise about the need to restore citizens' faith in government are desperately trying to keep their jobs. Real reform will come from without, from public pressure from citizen activist groups and from legal challenges. The AIDS Healthcare Foundation has sued City Council and the Mayor to force a review of projects approved under Jose Huizar's PLUM Committee from 2007 on, revoking permits for those found to have been corruptly approved and barring city employees from doing any work to move the projects forward.
And the FBI is still investigating, and urges citizens with knowledge of public corruption to share what they know. So if you've got the dirt, why not drop a dime on the bad eggs that are stinking up that beautiful Art Deco tower at First and Spring? Or just hang on tight, as the biggest political scandal in a century plays out against the backdrop of a city desperate for change.
yours for Los Angeles,
Kim & Richard
Esotouric
---
Subscribe! In the latest subscriber's edition of this newsletter—$10/month, cheap!—A great Ernest Batchelder fountain hiding in plain sight in Greensburg, PA (pop. 14,892), the tale of a delightful surprise we stumbled upon while sleuthing out landmarks.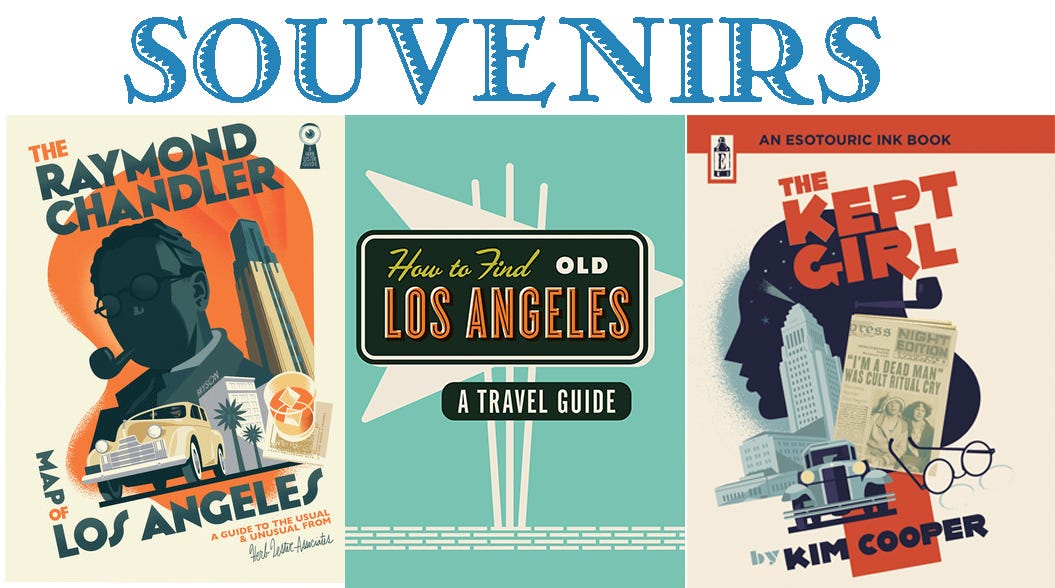 WANT TO SUPPORT OUR WORK?
If you enjoy all we do to celebrate and preserve Los Angeles history and would like to say thank you, please consider signing up for the subscriber's edition of this newsletter, or putting a little something into our digital tip jar. Looking for something L.A.-centric to enliven your collection? We've got a swell selection of local history books and maps, some written by us, others sourced from dusty warehouses. And we finally figured out how to ship these goodies direct from our quarantine pad to yours! For a wider selection, Bookshop uses the power of distributor Ingram to help independent bookstores stick around. We've curated a selection of uniquely Los Angeles titles, and when you order from these links, it supports participating local shops, and us, too. You can also click here before shopping on Amazon. Or you can reserve a gift certificate to join us for a tour once we're back on the road... & if you love what we do, please tell your friends.
AND WHAT'S THE NEXT TOUR? WHO KNOWS?!
We're dark until public health officials determine that groups can gather safely. But we've got 138 episodes of the podcast You Can't Eat The Sunshine free to download for armchair explorers, and videos of the Downtown L.A. LAVA walking tours, plus Cranky Preservationist videos.

---
AND FINALLY, LINKS
Road Trip! Although public bus tours are on hiatus, we still get around on our social distancing road trips around our beloved Los Angeles. Be a virtual backseat companion when you click the #esotouricroadtrip hashtag, on Instagram, Twitter or Facebook.
RIP Sonia Darrin, whose performance as snide Agnes shutting down Philip Marlowe in The Big Sleep is among the delights of the Film Noir canon. Hollywood never treated her right (she is uncredited because her agent picked a fight with Jack Warner), so she went East and modeled, then managed son Mason Reese's commercial career. They're as charming together as Agnes and Marlowe on The Mike Douglas Show.
Bill's Burgers for sale? Maybe, maybe not, but Bill's still behind the grill and serving up old school patties... verrrry slowly. C'mon, he's almost a hundred years old, and you've got places to go?
Video Vault: See! The Who's Who of Spookdom competing in a teenaged monster costume contest at the premiere of Roger Corman's "Tomb of Ligeia" (1964) at the Pix Theatre (now the Fonda) on Hollywood Boulevard. Vincent Price picked a gruesome winner.
Buried in Eater LA's feature How LA's Oldest Restaurants Are Navigating a Timid Reopening: the Pacific Dining Car didn't return a request for comment about plans to reopen the landmark Westlake steakhouse and all-night breakfast spot. Please come back!
We speak up for S. Charles Lee's Puente / Star Theatre, which a pro-development attorney dismisses as a crummy porn joint in a Reddit post about hating CEQA. (We love CEQA, and this lost theatre.)
Very interesting: Onni Group, whose Times Mirror Square project is likely implicated in Jose Huizar's public corruption case, have fallen out of contract on their massive, spot-zoned Emeryville tower. They owe the planning department $55,670.91.
Hope for California's endangered citrus groves, thanks to UC Riverside plant geneticist Hailing Jin and Australian finger limes.
Look at the faces of these dedicated Angelenos—we can't lose these gems!
When the Mayme A. Clayton Collection of African American History and Culture was evicted from its Culver City home, a world class research archive went dark. The lights are on again, with a new home at CSU Dominguez Hills. The Supervisor, who evicted them, is taking credit for this, too.
In 2017, Irvine based developer PH/T&T Master One, LLC tore down the Steve Allen Theater for a small lot development that stalled. Things have gotten pretty heavy on the vacant lot.
Monarch butterfly hatchery update: watch the rhythmic movements as the chrysalis works its way out of the thin, striped skin that's no longer needed. (Or don't if you're squeamish. Richard is!). Later: The green walls suddenly transparent, this chrysalis no longer hides the tucked in wings of tomorrow's beauty.
As yet another Home Savings & Loan building designed by Millard Sheets is threatened with demolition, Pacific Beach has an important conversation about preservation in place for its site-specific mosaic murals. Don't make Santa Monica's mistake, guys!
Video vault: Fifteen minutes of footage documenting the devastating 1933 Long Beach Earthquake, including brick smashed cars, buildings without facades, fallen neon and a soup kitchen in full operation for stunned survivors. Dozens perished in the 6.4 magnitude temblor.
The former Parisian Florist, once the greatest facade on Sunset Boulevard, and neighboring storefronts ignited in a massive gas line fire, which shockingly left the buildings intact. Developer Jason Illoulian wants to upzone the block, and ran the independent tenants off.
Pasadena is considering some changes to its historic preservation ordinance, including a special carve out for anything touched by Greene & Greene, because you don't mess with the brothers Greene!
Arthur Nakane, Little Tokyo's legendary 80-something one-man-band, is on the brink of homelessness—and separated from the great love of his life, playing live for tourists and locals. Here's a link to tip an Angeleno whose daffy creativity deserves to be nurtured.
Lawry's will be serving prime rib dinners in the parking lot, and have commissioned an anonymous artist with a spot-on mid-century style (very VIP!) to illustrate the experience.
The long awaited new John Fante adaptation, My Dog Stupid, stars Yvan Attal, Charlotte Gainsbourg and a big, sloppy hound.
Phony virtual constituents, creepy emailed threats roil South Pasadena City Hall. Connected to sudden withdrawal from civic life of former mayor Marina Khubesrian?
As LACMA blithely demolishes its William Pereira campus to the horror of Angelenos, San Diego shows us how to properly celebrate and steward a great Pereira building's 50th Anniversary. Here's to Geisel Library with a full year of special events.
A cool surprise from Hollywood's literary closet: a Kickstarter to bring Myron Brinig's lost 1933 illustrated novel The Flutter of an Eyelid back into print. The ghosts of Jake Zeitlin and Sister Aimee are incensed! (Fun Fact: Gore Vidal recommended this book to Richard many years ago.)